The Stove
11261 S. Eastern Ave., Ste. 200 (Summit Grove Dr.)
Send to Phone
Local chef Antonio Nunez and Hell's Kitchen Season 12 winner Scott Commings teamed up at this Henderson eatery, serving breakfast and lunch fare with a twist.
---
---
Open

Breakfast & Lunch daily

Features
Parking lot
Dress code: Casual
Reservations suggested
* Click here for rating key
---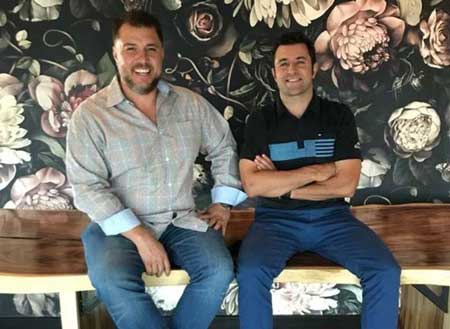 ---

Operations may be disrupted due to COVID-19. Be sure to contact the restaurant to find out its current status and offerings.


---


The Stove Restaurant Review
:
About the restaurant & décor: Local chef Antonio Nunez and Hell's Kitchen Season 12 winner Scott Commings teamed up at this Henderson eatery. The second story venue has three different environments: Twisted Tea Room with a 1950s feel featuring mismatched sets of bone china; Coffee Chill Room with a muffin bar for "grab and go" service; and dining room with an exhibition kitchen, bookcase lined with cookbooks, indoor garden producing up to 900 leaf greens, and nostalgic items like a 1960s-era cigarette machine (sans cigarettes). Throughout the space are floor-to-ceiling windows offering panoramic views of the Las Vegas Valley.

Likes: The children's menu lists a burger, Mc Vegan Nuggs, PB&J and egg sandwich, all of which are served in old-school metal lunch boxes and include a whirligig for the kids to take home.
Dislikes: Twisted Tea Room is suitable for conversing, drinking tea and eating a snack, but not so much for having a full meal, as seating consists of half booths with backs set too far from the table and stools with no backs that are too low from the table to eat comfortably.

Food & Drinks: A good starter is the spicy short rib empanada with Oaxaca cheese, poblano chilies, salsa arbol and crema. The menu features mainly non-traditional items including a Country Benedict (country fried steak, eggs and gravy on a waffle); foie and cherries with amaretto french toast, red wine-soaked cherries and toasted almonds; vegan options such as a burrito with black beans, avocado, vegan chicken and greens; and gluten-free choices like the Unicorn Burger (a plant-based burger patty with cheese on a gluten-free bun). Be sure to finish with the bananas Foster flambéed tableside with caramelized bananas, banana liqueur, dark rum, cinnamon and brown sugar atop three thick pancakes with vanilla ice cream. Among beverages are unique cocktails like the Sake Fizz with juniper-infused sake, mint and lime; and food-themed beers such as Saugatuck Blueberry Maple Stout.
---
---
---