2023 Best Italian Restaurants in the U.S.A.
America's Best Italian Food
Italian food is an undeniable part of the American dining landscape. Nearly every neighborhood has its own red sauce joint, run by a local nonna who's been cooking up her famous lasagna the same way for decades. But today's modern Italian restaurants strive for something more, like handmade pastas, rustic regional recipes and exquisite surroundings.

Check out GAYOT's list of the Top Italian Restaurants in the U.S., presented in alphabetical order.

> Check GAYOT's:
- Best Italian Restaurants near you
- Italian Wine Reviews
- Italian Food Terms Guide.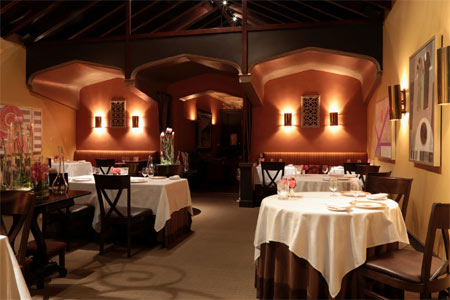 Named for the watercolors that line the walls of this intimate former chapel in San Francisco, Acquerello offers contemporary interpretations of Italian cuisine. Savor signature dishes such as ridged pasta with black truffle and Marsala sauce. See More
View Restaurant
Altura in Seattle asks its guests to trust the chef and share a culinary trip paved with luxury ingredients mixed with Northwest and Italian ideas. Expect to devote around three hours to the tasting menu, which kicks off with inspired stuzzichini like sea urchin cannoli. See More
View Restaurant
New Yorkers keep coming back to this modern Italian trattoria. Try the special pasta tasting menu — five pastas followed by two desserts (talk about a winning formula). See More
Book a Table
View Restaurant
Chef Marco Wiles, born in Italy and raised in the U.S., learned cooking from his aunt during summers spent in northeastern Italy. At his Houston trattoria, guests might encounter such winning dishes as black truffle risotto. See More
View Restaurant
Chef/co-owner Lachlan Mackinnon-Patterson pays tribute to the Friuli-Venezia Giulia region of Italy at Frasca Food and Wine in Boulder, Colorado. Guests embark on a gastronomic odyssey that relies on a bumper crop of foodstuffs from local farmers, ranchers and purveyors. See More
View Restaurant
Seek out Macchialina in South Beach for rustic yet modern Italian fare from Michael Pirolo. The way to go is with the chef's tasting menu of five courses. See More
View Restaurant
Italian
,
Pasta
,
Gluten-free
"Top Chef" alum Sarah Grueneberg presents soulful Italian fare and fresh pastas at Monteverde in Chicago. She also injects her German heritage into the menu with dishes like stuffed cabbage with porcini bolognese and crispy polenta. See More
View Restaurant
Sinatra at Encore Las Vegas offers up a contemporary take on classic Italian cooking and is the only restaurant sanctioned by the Sinatra family to bear his name. Enjoy high-quality dishes in a space full of old-fashioned charm. See More
Book a Table
View Restaurant
Atlanta's Sotto Sotto firmly adheres to the principles of the Italian kitchen. Its authenticity is evident in such starters as the cooked-to-order risotti that come al dente — try the seafood or the mantecato with its drizzle of good balsamic vinegar. See More
View Restaurant
Vetri Cucina offers a feast of Italian cooking in Philadelphia. Chef Marc Vetri's repertoire of earthy, eloquent and ambitious food has included sweet onion crêpe with truffle fondue, and delicate spinach gnocchi with brown butter. See More
View Restaurant