SKYY Infusions - Vodka Review
Reach For the SKYY
by Jeff Hoyt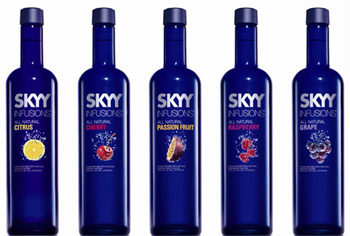 From the screwdrivers sipped by 1950s housewives to the cosmopolitans that fuel the Sex and the City ladies today, fruit flavors have been the backbone of vodka cocktails popular with women. Following in the footsteps of competitors from Stolichnaya to Belvedere, SKYY Spirits of San Francisco introduced five new fruit-flavored vodkas known as SKYY Infusions that should have strong feminine appeal.

The all-natural flavors introduced nationwide by the subsidiary of Gruppo Campari are Citrus, Raspberry, Grape, Cherry, and the one we tasted, Passion Fruit, which also contains one of our favorite ingredients, guava juice. Straight from the distinctive blue bottle, the drink's saccharine sweetness helps mask the taste of alcohol contained within, although a warm, pleasing burn travels down the esophagus. There is a little aftertaste, as the 70-proof drink does not produce the "clean" feeling in the mouth of higher-end vodkas. We surmise the vodka used is closer to SKYY Vodka rather than their top-of-the-line SKYY90.

Women who tasted the drink, at room temperature and chilled, all enjoyed it. One husband put it best: "Where was this when I was a dating man?"

The new line, available in 50 ml, 750 ml, 1-liter and 1.75-liter (Citrus only) bottle sizes, should prove popular in the summer months. Sadly, the fruit flavors pale in comparison to a handcrafted cocktail made from fresh fruit ingredients, but the convenience factor of having a tasty, fruity, alcohol-masking drink ready at a moment's notice cannot be minimized. For those willing to put in a little more effort for more freshness, the line can be incorporated into cocktails, such as the SKYY Infusions Yankee Doodle.
Price: $19 for 750 ml
Read about SKYY Infusions Pineapple

Read about SKYY Infusions Pineapple Hawaii-Themed Cocktails
COCKTAIL RECIPE
SKYY Infusions Yankee Doodle

1 ½ oz. SKYY Infusions Grape Vodka
1 tsp. raw sugar
4 slices of fresh peeled ginger
5 large green grapes
Top with soda

Muddle grapes, ginger, and sugar in pint glass. Add ice and SKYY Infusions Grape Vodka. Shake vigorously and strain into cocktail glass over fresh ice. Top with soda and garnish with raspberries and blueberries.
For more information visit www.skyyinfusions.com


More Vodkas

Top 10 Vodkas

More Spirits
| | |
| --- | --- |
| PSV061608 | (Updated: 08/03/11 BH) |