Best Beaches in Hawaii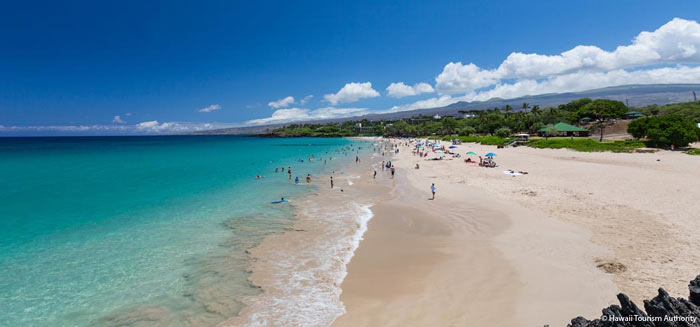 Hawaii's Most Stunning Shorelines
Who doesn't immediately think of beautiful beaches when you hear the word Hawaii? An alluring attraction of the Aloha State, the miles of coastline that stretch across the islands beckon millions of tourists every year. The seclusion and volcanic history of the archipelago have endowed it with some of the most stunning beaches on the planet, from scenic expanses of white sand to isolated coves.
GAYOT's selection of the Best Beaches in Hawaii span from Oahu to the Big Island and promise to offer the best spots for swimming, snorkeling, surfing, sunbathing and even wildlife sightings.
> The selections are presented in alphabetical order.
1. Hamoa Beach, Maui

Hamoa Beach, Hana, Maui
Walk the salt and pepper sands of this beach.
This exquisite salt-and-pepper sand beach is maintained by the Travaasa Hana hotel, so you will see hotel guests frequenting the beach. It offers superb bodysurfing and bodyboarding in the winter, and great swimming and snorkeling in the summer. Care should be taken during the winter as the waves are strong and there is an undertow. There is no lifeguard and parking is limited.
2. Hanalei Bay Beach, Kauai

Hanalei Bay Beach, Hwy. 56 , Hanalei, Kauai
If Hanalei Bay Beach seems familiar, it may be because the movie "South Pacific" was filmed here.
Three county facilities offer a variety of camping, picnicking and restrooms: Hanalei Beach Park, Hanalei Pavilion and Waioli Beach Park. The surfing here is excellent, but for experts only. Families can set up camp near a lifeguard stand for added peace of mind.
3. Hapuna Beach State Recreation Area, Hawaii

Hapuna Beach State Recreation Area, Old Puako Rd., Waimea, Hawaii
Hapuna is a popular beach along the Kohala Coast of the Big Island because of its large size and deep, clean sand.
May through September proves to be a favorite time to visit for locals because conditions are perfect for bodysurfing, swimming and snorkeling. Use caution if visiting October through April as the surf pounds the beach and strong rip currents are present. Facilities include A-frame cabins for up to four people for overnight camping, paved parking lots, picnic pavilions, restrooms and showers. Sun worshipers will rejoice here, but take sun umbrellas and lots of sunscreen as there isn't much shade on this beach.
4. Hookena Beach Park, Hawaii

Hookena Beach Park, 86-4322 Mamalahoa Hwy., Captain Cook, Hawaii
Families spend hours at this beach enjoying activities from kayaking to camping.
The ocean views and scenic vistas are spectacular at this historical site of one of the last fishing villages in Hawaii. Hawaii residents bring their families to Hookena to relax in the small park, complete with restrooms, showers, picnic tables and shade trees. The beach sand is an unusual combination of fine grey coral and white sand. You might be lucky enough to spot a dolphin or turtle here. Rent a kayak or snorkeling gear for some excellent water time.
5. Hulopoe Beach, Lanai

Hulopoe Beach, End of Rte. 440, Lanai City, Lanai
Lanai doesn't have a lot of accessible white-sand swimming beaches, but this one is the island's best, and one of the prettiest in the state.
There's excellent snorkeling around the lava pools and near the rocks on both ends of the beach. The well-protected beach is also a good swimming area. Hulopoe is a protected Marine Life Conservation District and taking marine life is forbidden in the bay.
6. Kailua Beach Park, Oahu

Kailua Beach Park, 526 Kawailoa Rd., Kailua, Oahu
This beautiful stretch of white-sand beach is a mecca for windsurfing, parasailing, kayaking and swimming thanks to the constant trade winds and many ocean equipment renting companies nearby.
Enjoy the gorgeous ocean views as you drive along the coast towards Kailua Town, and its famous beach park. Stop at Kalapawai Market (serving the community since since 1932) to stock up on provisions — you'll find absolutely everything you need for a day at the beach.
Kailua Beach Park is just a block further, so park and find a shady spot to lounge away the time on one of the island's loveliest beaches. If you're feeling energetic, take a kite-sailing or windsurfing lesson from one of the vendors who set up shop on the beach every day. Otherwise, alternate between refreshing dips in the turquoise blue ocean and reading that lurid novel you've been saving.
Kailua Beach Park can get crowded on the weekends, so plan to visit on a weekday if possible. It is often used for small wedding ceremonies, so don't be surprised to see one!
7. Kekaha Kai State Park, Hawaii

Kekaha Kai State Park, Hwy. 19, Kailua Kona, Hawaii
This state park, with a name that means "the shore line," is surrounded by not one beach but three!
Formerly Kona Coast State Park, this piece of land is situated on the north Kona coast of the Big Island of Hawaii. Surrounding the park are three beach areas — Maniniʻowali Bay (Kua Bay), Makalawena beach at Puʻu Aliʻi Bay, and Mahaiʻula Bay. Popular recreational activities at the state park include fishing, swimming and snorkeling.
Also here is one segment of the historic Ala Kahakai Trail. A 4.5 mile stretch connects Mahaiʻula and Kua Bay, with the summit of Pu'u Ku'ili accessible along this path.
8. Lanikai Beach, Oahu

Lanikai Beach, Kailua, Oahu
It's no wonder that Lanikai Beach translates to "heavenly sea."
The white sand, pristine waters and lush surroundings only begin to explain why this beach is continually rated as one of Hawaii's best. Visitors can enjoy activities such as snorkeling, sailing and windsurfing. A nearby coral reef protects these waters from harsh currents year-round and temperatures remain warm, making it ideal for swimming. Lanikai also offers a view of the Mokulua islands — one of which is a bird sanctuary. Don't miss the opportunity to witness a moonrise over the peaks. Although no public parking is available, public beach access paths get you to the sand. Beat the weekend crowds and hit the beach on a weekday.
9. Makena Beach, Maui

Makena Beach, Makena Rd., Wailea, Maui
Easily Maui's most spectacular white-sand location, Makena Beach boasts deep-blue, crystal-clear water and views of the nearby islands of Molokini and Kahoolawe.
You can bodysurf when the waves are up or snorkel when no surf is present. At the west end of Makena, you can access "Little Beach" at the foot of Puu Olai by scrambling over the boundary headland. This is known as a clothing-optional beach and the area is occasionally "raided" by the police. Whether you choose to spend your time at the bigger Makena Beach or "Little Beach," both are great for getting some fresh, salty air.
10. Malaekahana Bay, Oahu

Malaekahana Bay, 56-335 Kamehameha Hwy., Laie, Oahu
We love that this beach is a world away from the Waikiki tourist scene.
Reminiscent of "old Hawaii," Malaekahana Bay is situated near the North Shore of Oahu and boasts great conditions for swimming, surfing, fishing, windsurfing and kayaking. The ample shade provides a great picnic setting for the whole family. Malaekahana also has varied camping facilities, such as areas for pitching a tent, plantation huts and eco-cabins. The staff at the campgrounds is courteous and eager to share information on Hawaiian culture and how to best enjoy your time at the "Home of the Beachfront Li'l Grass Shacks."