Hawaii City Trip — Family Vacation
| | |
| --- | --- |
| Kid-friendly Adventures on Oahu and Maui | |
There are many different ways to experience the beauty of Hawaii, but if you have tempestuous toddlers or teens in tow, you're looking at a different kind of vacation. We have put together a perfect five-day itinerary for Oahu and Maui (the islands that lend themselves best to family fun), filled with activities for all ages and embracing nature, history and adventure. There is literally something for everyone to enjoy here and you'll make memories that your kids will be telling their children about one day.
After arriving at Honolulu International Airport and getting that all-important car rental, head to the Hilton Hawaiian Village Waikiki Beach Resort— a vast family-friendly hotel packed with fun activities including a beach lagoon, Camp Penguin for kids ages five through 12, a Sunday luau, daily torch lighting ceremony, as well as numerous shops and restaurants. You may not want to leave this pleasure dome, but adventure awaits on Oahu!
On your first morning, have breakfast at the hotel, then make your way to the Waikiki Aquarium where the exhibits of vibrant corals and sea life will challenge the ennui of even the most jaded teenager. Stand in front of the octopus long enough for it to pay attention to you and watch the colors and textures change as it reacts to its surroundings — absolutely fascinating as are the jellyfish displays. Constantly on-the-move sharks, giant trevally and stately groupers inhabit the largest tank. Outside you'll see the endangered Hawaiian monk seals, which look like overgrown dogs with their big brown eyes and smooth coats. Have the kids note their favorite reef fish since they could well see them at your next stop — snorkeling at Hanauma Bay Nature Preserve. (Please note that Hanuama Bay is closed on Tuesdays.)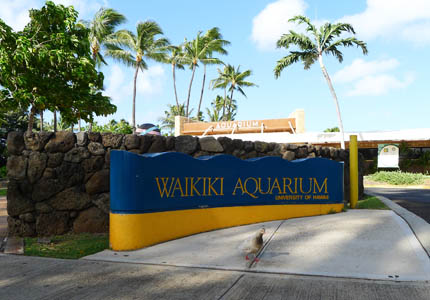 Catch a quick lunch at Teddy's Bigger Burgers before heading out to Hanauma Bay. Teddy's has one of the best burgers on Oahu and while the hand-cut fries are good, too, we love nothing more than their old-fashioned pineapple milkshake. Once you arrive at Hanauma Bay, there is a required presentation which will explain the nature preserve. Once you are suited up (snorkeling gear can be rented on-site), head into the water and see how many of those fish you saw at the aquarium you can locate in the ocean.
Back at the hotel, get ready for dinner at Tanaka of Tokyo Central, one of the premiere teppanyaki restaurants on Oahu. While the chefs dazzle with their humor and knife skills, the food is delicious. After the full day of activities, you'll need a good night's sleep, since tomorrow you will get up early for a trip to one of America's most historic sites, Pearl Harbor National Monument.

Visiting Pearl Harbor as part of an organized tour is highly recommended. Parking is tight, regulations are strict and a tour helps to keep the focus on the experience. For families visiting Pearl Harbor for the first time, we recommend the Pacific Aviation Museum on Ford Island as one of the most interesting places to spend at least half a day. Some of the exhibits are housed in hangars which came under attack on December 7, 1941, and evidence of the attack can still be seen. Here at one of the top aviation museums in the nation, you find not only all kinds of airplanes, but also flight simulators and World War II-themed Laniakea Cafe featuring daily specials, fresh salads, gourmet burgers and sandwiches at reasonable prices. After all the excitement of the museum, you will need refueling.
Spend the rest of the day enjoying activities at the hotel, then head out for dinner at one of Waikiki's best open-air dining spots, Tiki's Grill & Bar. Tiki's is totally kitschy with its Polynesian-themed decor, but you can't beat the view of the beach or the fresh seafood preparations from executive chef Ronnie Nasuti. You'll find potent cocktails for the adults and a keiki menu for the kids.
Plan a voyage to a tropical paradise aboard one of GAYOT's Best Caribbean Cruises.
Get the 411 on the City of Angels. Find the city's top hotels, restaurants, attractions and more with GAYOT's guide.