How to Throw a Holiday Wine Party
My most memorable holiday celebrations were not the extravagant affairs with Grand Cru wines and caviar canapés. Nor were they the parties with all the right people in chichi black outfits. Rather, they were the get-togethers where the host had invested thought into small touches for our pleasure. If you're hosting a holiday soiree — no matter the size or pedigree — here are some entertaining tips that will help make your guests feel pampered.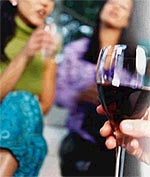 Getting Started

With an event held at a hotel or resort, the banquet manager can advise you of how much alcohol you'll need, as can caterers or liquor store merchants when you celebrate at home. Count on one drink per guest per hour, and up to two drinks per hour if guests are staying overnight or have prearranged transportation home. Some people tend to drink less at morning and afternoon receptions than they do during those in the evening, particularly during sit-down dinners. However, you will want to be a bit generous with your estimates so that you have an adequate supply rather than run short. Unopened bottles can usually be returned. One alcoholic drink is equivalent to one bottle of beer, five ounces of wine or two ounces of hard liquor or liqueurs. However, there are some questions you should consider before stocking your bar.
Mixing Drinks

The type of celebration, the number of guests and your budget determine the ideal mix. Take into consideration the drink preferences of your guests: Are most likely to drink wine, spirits or non-alcoholic beverages? Older guests often prefer spirits while younger drinkers favor wine and spritzers. And even those drinking alcohol may want to pace themselves with some non-alcoholic beverages such as sparkling water and fruit juice. Offer a non-alcoholic punch and soft drinks as well as juice and milk for the children.
Themed Drinks

The right drinks can personalize your celebration. If you are commemorating a holiday, such as your first married Christmas or Hanukkah, you can feature popular drinks from that year. Serving wines from one country or vintage can also give your party a more festive theme. At large gatherings, a magnum of wine is visually dramatic on the holiday table because at 1.5 liters they're twice the size of the standard 750 ml bottle. Magnums also make a holiday toasts feel more communal with everyone taking a glass from the same bottle.
Budgeting

Offering a fruit punch or mulled cider mixed with alcohol before the meal will cost less than a full bar and will stretch the alcohol further. At a party held at a resort or other rented space, ask if you can purchase your own wines and pay a corkage fee for the staff to open and serve the wine. It can cost less than if you had selected the resort's offerings.
Essentials
With a full bar, please several generations at a time by offering such retro favorites as martinis, Manhattans, cosmopolitans and sidecars. You'll need the "speed rail" essentials, the most popular spirits that professional bartenders keep out front, which are gin, rum, rye, scotch and vodka. The standard 1.14 liter bottle of each will usually suffice, except for larger parties or those where the majority of guests are drinking spirits. Among these can be your "house pour," the drink you offer to those who don't have a preference. You will want to stock about twice as much of this drink as the others. With beer, stock an equal mix of domestic, imported and light.
Choosing Wines

Many people now serve wine for all occasions, whether it is sparkling, red or white. Sparkling wine or Champagne works well at receptions, for toasts and throughout a meal. A 750 ml bottle will give you five generous flute glass servings. To determine the mix of red and white wine, go with an even split if you are not sure which your guests prefer. You will get five glasses of wine from a 750 ml bottle. For festive winter gatherings, serve full-bodied white wines such as buttery, toasty Chardonnay from California or Australia. Zesty, acidic whites with lots fruit stand up to hot, spicy hors d'oeuvres and go well with cheeses. Try Canadian and German Rieslings or New Zealand Sauvignon Blancs. Full-bodied red wines such as New World Cabernet Sauvignon, Australian Shiraz and Italian Barolos and Amarones go well with the hearty flavors of holiday meals.
The Good Guest

If you're the guest, call ahead of time to see what you can contribute to the party. Your host may be amply stocked with wines and drinks, or may have already selected drinks to match the dishes, and therefore may prefer a dish, condiment or flowers instead. If your host suggests wine for the party, ask about a preference for red or white and a favorite style or country, as well as which dishes will be served. Of course, you can always give wine as a gift to stock your host's cellar. If you have a cellar yourself, you can take a well-aged bottle that is no longer in stores. If not, look for an unusual bottle or underrated wine that will be a special treat for your host.
The Good Host

If you're the host, open wine that guests bring to your party, even if it doesn't ideally suit your meal. Unless it's meant to be a cellar gift, selecting the wine to open for a particular time during the evening, and even fussing over it, will make your guest feel appreciated. Although opinions differ on this issue, not opening a guest's wine can signal that either the wine is so bad you that don't want to drink it or so good that you don't want to share it. Furthermore, your guest may be eager to share the bottle with you.
Sweet Treats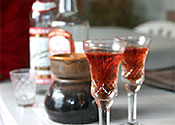 To make the after-dinner sipping special, serve an array of herbal teas and blends of coffee along with a selection of four or five liqueurs, such as perennial favorites Bailey's Irish Cream, Tia Maria, Grand Marnier, Drambuie and Anisette. Once again, the standard sizes of each will suffice, particularly since these are generally after-dinner drinks and not consumed throughout the evening. If your budget permits, also buy a bottle of cognac, brandy, fortified wine and/or port. Sweet wines, such as late-harvest wines, Hungarian Tokaij and Sauternes from France, will match the sweetness in your desserts or work as a dessert on their own.
Final Tips

Finally, here are a few suggestions regardless of the drinks you chose. For most celebrations, you can serve all drinks in three types of glasses: champagne flute, wine glass and an all-purpose highball glass for mixed drinks. Rent or buy one of each glass per person plus about ten per cent extra to allow for breakage and for guests requesting new glasses for a different drink. In regard to serving, you can avoid congestion in one area and keep guests mixing by setting up drinks stations around your home, hall or resort where you are entertaining. In addition, you may also want to instruct your servers not to automatically fill everyone's glass after the first glass or two, but instead do so upon the guest's request (of course, the servers should be accessible for this).
The right drinks can help make any celebration more festive. As the famous nineteenth-century lawyer and writer Oliver Wendell Holmes said in a toast: "Then a smile, and a glass, and a toast, and a cheer; for all the good wine, and we've some of it here."
Related Content:

Top 10 Holiday Wines

Champagnes and Sparkling Wines

Pairing Wine with Holiday Meals