The Best Value Sparkling Wines
Sparkling Wines Worth Toasting
Great sparkling wines don't have to come from Champagne (France). You can find some truly great sparkling wine values from other parts of the world. If what you want is an affordable bottle of bubbly that's a good value for the money, look to regions like Catalonia, Alsace, Washington state and even Tasmania.
GAYOT's Best Value Sparkling Wines list highlights affordable wines from these regions and more. We think you might be surprised at how easy it is to find a lovely bottle of bubbly at an undeniably attractive price point.
1. NV Jaume Serra Cristalino Brut Rosé

Origin: Catalonia, Spain
Varietal: 60% Pinot Noir, 40% Trepat
Price: $10 for 750ml.
ABV: 11%
Jaume Serra is a winery with a history dating back to 1674. However, at that time the estate was used for farming, not winemaking. You might recognize their wines as "Cristalino," the winery's former name. Unfortunately, it was forced to make a change because Louis Roederer Champagne felt the name bore too much similarity to that of their prestige Champagne, Cristal. Whatever you call it, we recognize this Cava producer for their outstanding value and fun sparkling wines.
If value for money is your goal, this is truly the sparkling wine for the top of your list. Fresh and crisp with surprisingly good balance for the price, it offers lovely red fruit aromas and flavors. Strawberries, raspberries and red cherries dance across the tongue and the wine finishes clean with zippy citrus acidity.
> For more information, visit Jaume Serra winery website.
2. Lucien Albrecht Crémant d'Alsace Brut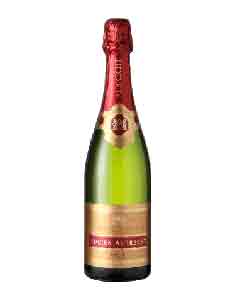 Origin: Alsace, France
Varietal: Proprietary blend including Pinot Auxerrois, Pinot Blanc and Chardonnay
Price: $18 for 750 ml.
ABV: 12%
Lucien Albrecht, the man, is considered one of the most important figures in Alsatian sparkling winemaking. That's because he was instrumental in attaining the official AOC designation for Crémant d'Alsace. His son runs the winery today but continues to uphold the reputation of excellent value sparkling wines.
This lovely Brut is easy-drinking but very well made for the price. It's just the sort of wine to take to a brunch or potluck. Golden apple dominates its aromas and flavors, but a creamy texture in the mouth is really what makes this wine stand apart from other sparkling wines in its price range. Soft yet fresh, it lingers impressively long on the palate.
> For more information, visit Lucien Albrecht official website.
3. NV Roederer Estate Brut

Origin: Anderson Valley, California, U.S.A.
Varietal: 60% Chardonnay, 40% Pinot Noir
Price: $24 for 750 ml.
ABV: 12%
When Champagne Roederer invested in California's Anderson Valley in 1982, it was a surprising move to most of the winemaking world. But the region's climate proved exemplary for creating sparkling wines that could rival Champagne in structure. The winery is one of the very few sparkling wine producers in California using only estate fruit, and the result is a sophisticated line of world-class bubbly.
We've selected the Estate Brut, the first wine Roederer produced in California, for our list of Best Value Sparkling Wines. Although it sells at a slightly higher price point than most of the wines on the list, we added it because this is a wine that closely resembles Champagne but at a price that's much friendlier to the wallet. It offers elegant notes of toasted brioche, subtle baking spices, lemon acidity and just a hint of sweetness.
> For more information, visit Roederer Estate official website.
4. NV Jansz Premium Cuvée
Origin: Tasmania, Australia
Varietal: Chardonnay and Pinot Noir
Price: $20 for 750 ml.
ABV: 12.5%
Many wine lovers are surprised to learn that Tasmania has a vibrant sparkling wine industry. There's a microclimate in the island state's northeast that offers ideal growing conditions for making sparkling wines.
Jansz is not only one of the best but also the first Tasmanian winery to make sparkling wines in the méthode champenoise style. We've selected the Premium Cuvée for our Best Value Sparking Wines list because of its approachability. This is a wine everyone can appreciate and a style that's great with breakfast, as an apéritif or with a meal. It would even work with a light dessert! It offers citrus blossom aromas and an intriguing note of nougat on the palate for a very interesting and approachable flavor profile.
> For more information, visit Jansz winery official website.
5. Juve y Camps Brut Rosé Cava
Origin: Catalonia, Spain
Varietal: Pinot Noir
Price: $17 for 750 ml.
ABV: 12%
Juve y Camps is a family-owned winery recognized for producing good-value Cavas. They make their wines using the méthode champenoise and age the wines in the bottle for as much as 24 months — astounding when you consider the price!
For those who like a sparkling wine with weight to it, the Brut Rosé is an excellent choice for under $20. It's made from 100% estate Pinot Noir. The wine's glowing ruby color is the first hint this is a Cava with big body. On the nose it offers notes of cherry, candied rose petal and a hint of cocoa. On the palate, it feels like a red wine with good weight on the mid palate and a gamey note on the finish.
> For more information, visit Juve y Camps official website.
6. Bianca Vigna Prosecco D.O.C. Brut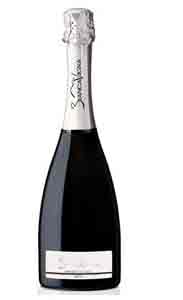 Origin: Veneto, Italy
Varietal: 100% Glera
Price: $17 for 750 ml.
ABV: 11.5%
Many wine lovers are drawn to Prosecco for the favorable price points these Italian sparkling wines tend to represent. Proseccos tend to stand apart slightly from most other sparkling wines of the world, primarily because of differences in production methods. It is made by the Charmat method, as opposed to méthode champenoise. This means that the wines undergo their secondary fermentation in tanks instead of in the bottle. It is, largely because of this production method, that Prosecco is so much less expensive than Champagne.
While there is a plethora of Prosecco on the market in a good value price range, we've found a D.O.C. Brut that truly stands out for its quality and elegance for the price. A creamy texture gives it an incredibly desirable mouthfeel, but bright lemon and grapefruit flavors keep it fresh and fun. It's a nicely balanced wine that lingers surprisingly long with a note of grapefruit zest.
> For more information, visit Bianca Vigna website.
7. NV Loosen Brothers Dr. L Sparkling Riesling

Origin: Mosel, Germany
Varietal: 100% Riesling
Price: $16 for 750 ml.
ABV: 12%
The Doctor Loosen estate is a Mosel region winery steeped in tradition. It's been in the same family for more than 200 years. The winery is best known for stunning Rieslings from the vineyard's old vines, but the Loosens also like to play with producing sparkling Rieslings from non-estate grapes.
If you're looking for an affordable sparkling wine that's a complete departure from what you're used to drinking, try this German sparkling Riesling. Made in the Charmat method, it isn't a wine about finesse, but it is a floral, fruit-forward wine that is great for a fun occasion.
> For more information, visit Doctor Loosen estate official website.
8. Louis Bouillot Perle d'Aurore Brut Rosé

Origin: Burgundy, France
Varietal: Pinot Noir, Chardonnay, Gamay
Price: $20 for 750 ml.
ABV: 12%
Louis Bouillot makes distinctly Burgundian yet decidedly affordable sparkling wines. The house specializes in Rosé, although they make a full line of sparkling wines. That's because they have the ability to use Burgundian Pinot Noir — considered by many wine enthusiasts to be the finest Pinot Noirs in the world.
The Perle d'Aurore is a big, ripe wine but one that's also decidedly elegant. It has a creamy mouthfeel and bright raspberry fruit on the palate but an indefinable, earthy something at the back of the palate. It is in a higher price point than many on this list but it is most definitely still one of the best-priced Rosés for the cost on the market.
> For more information, visit La Maison Louis Bouillot official website.
9. NV Domaine Ste Michelle Brut

Origin: Columbia Valley, Washington, U.S.A.
Varietal: 63% Chardonnay, 19% Pinot Noir, 18% Pinot Gris
Price: $13 for 750 ml.
ABV: 11.5%
This Washington state winery is one of the most popular sparkling wine producers in North America, and what the winery is best known for is delivering value for money. Any of their wines, traditionally made in the méthode champenoise, could easily fit on this list, but we've selected the NV Brut for its attractive price point.
It's a pleasingly floral wine with just a hint of spice on the nose. The addition of a sweet dosage gives the wine a tickle of sweetness at the tip of the tongue. Its fruit flavors are of apples and citrus with a faint note of licorice adding dimension. There's a slight minerality at the back before a clean finish.
> For more information, visit Domaine Ste Michelle official website.