13 Best Classic Cars
Thirteen Best Vintage Vehicles
America's love affair with the automobile has existed for over a hundred years, since the very first Ford Model T rolled off the production line in 1908. Since then, each era has brought with it groundbreaking innovations from car makers around the world, exposing the imagination to new adventures on expanding roadways (and race tracks).
GAYOT's list of the 13 Best Classic Cars features a variety of iconic automobiles from brands such as Alfa Romeo, Ferrari and Rolls-Royce that embody a sense of creativity, excitement and pure luxury. Purchasing one of these classic beauties may set you back millions, but just imagine the priceless experiences that await you on the road ahead.
1. 1938 Alfa Romeo 8C 2900
A high-performing classic sports car
Designed especially for Italy's Mille Miglia open-road endurance race, the Alfa Romeo 8C 2900B took home the top three spots in its first showing in 1938 and the top two the following year.
Long, elegant and uniquely Italian, the Alfa Romeo 8C 2900B remains a classic today due to its high-performance engineering and distinctive styling. With the "B" edition, Alfa Romeo made some concessions for passenger comfort and convenience, winning over drivers just as it did raceways. While Alfa Romeo has continued to use the 8C name intermittently for its high-performance sports cars, few have achieved such a successful combination of speed and grace.
Vehicle: Coupe, 2-Passenger
Engine: 2.3-liter 2336 cc I8
Seating Capacity: 2
2. 1959 Aston Martin DB4 GT
A special lightweight, high-performance vehicle.
The Aston Martin DB4 GT was always more than just a racing machine with sleek sheet metal and a streamlined design to match, aficionados seek out this sexy English-made model as much for its posh looks as its sports car abilities.
With a top speed of 153 mph and a 0-60 time of 6.1 seconds, the capable coupe proved a strong competitor in everything from long-distance races to sprints to hill-climbs. The DB4 GT gave the Ferrari 250 TR a run for its money during its heyday.
Vehicle 2-Door Coupe, 2-Passenger
Engine: 3.7-liter straight 6
Horsepower: 240 hp
Torque: 240 lbs-ft
0-60 mph: 6.1 sec
Top Speed: 153 mph
Seating Capacity: 2
3. 1931 Bugatti Type 41 "Royale"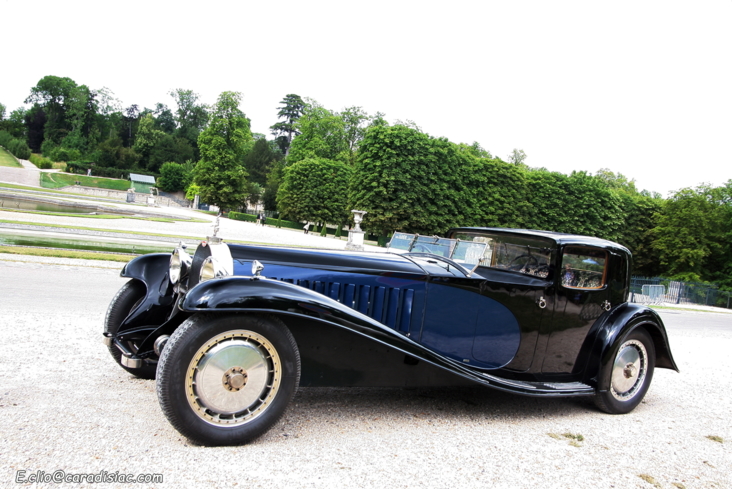 An elegant and incredibly rare coupe fit for royalty.

The Bugatti Type 41 (better known as the "Royale") was originally intended for royalty upon its 1926 production. Measuring in at an astounding 21 feet in length and 7,000 pounds, only six of these regal beauties were ever produced — none of them ending up in palace carports.
Given its rarity and imposing elegance, Bugatti's opulent coupe has rightly become a Holy Grail of sorts among auto enthusiasts, with collectors reportedly paying as much as $20 million to park one in their garage (est. value $10 million). Measuring in at an astounding 21 feet in length and 7,000 pounds, these massive and elegant coupes never made it to royalty.
Vehicle: Coupe, 2-Passenger
Engine: 12.7-liter inline-8
Horsepower: 300 bhp
Seating Capacity: 2
4. 1938 Delahaye 165 Cabriolet
An iconic and rare supercar from Tours, France.
First released at the Paris Motor Show in 1938, only six of the Delahaye 165 grand cabriolets were ever produced.
Based on the production version of the Delahaye 135 race car, the 165 Cabriolet is one of few automobiles to feature the rare Delahaye V12 engine. The coach, which boasts long, extravagant lines and chrome brightwork, was crafted by Figoni et Falaschi.
Vehicle: V12 Engine, Rear-Wheel Drive
Engine: Alloy 60 Degree V12
5. 1961 Facel Vega HK500

An elegant and powerful grand tourer.
Running buyers around $100,000, the Facel Vega HK500 is far and away the most affordable car on our list; however, this spirited French model is more than worthy amongst its more famous peers like Rolls-Royce and Ferrari.
Featuring an aerodynamic, American-inspired body shape, the HK500 unfortunately also burned fuel as fast as its counterparts in Detroit thanks to its muscular, if gas-guzzling, engine, the four-seat sports coupe only earned an average of 14 mpg. Fitted with a beefy 6.3-liter, 360-horsepower Chrysler-built V8, the HK500 tore through European thoroughfares at a top speed of 147 mph.
Vehicle: V8 Engine, 2-Door Coupe, Rear-Wheel Drive, Front Engine
Engine: 5.8-liter V8
Horsepower: 360 hp
0-60 mph: 8.5 sec
Seating Capacity: 2
6. 1958 Ferrari 250 Testa Rossa

An award-winning racing roadster from the iconic Italian automaker.
Identified by many as the most important prancing horse in Ferrari's deep stable, the 250 Testa Rossa dominated the racetrack during its day and set the standard for the future successes of the Italian automaker. Built with both performance and reliability in mind, this sexy if unorthodox roadster was well-suited to endurance races, and even won the 24 Hours of Le Mans in 1958.
The ideal combination of sport and sensibility has helped the Ferrari 250 TR to remain popular with collectors today, many of whom are willing to throw down big bucks for the little two-seater. In fact, one particular 250 TR set a new world record auction price for a car in August 2011, selling for an astounding $16.4 million.
Vehicle: V12 Engine, Convertible, Front Engine, Rear-Wheel Drive, 2-Passenger
Engine: 3-liter V12
Seating Capacity: 2
7. 1908 Ford Model T

This iconic vehicle changed the course of automotive history.
Widely regarded as the car that brought the automobile to the middle-class masses, the Ford Model T was the first vehicle to be produced on assembly lines with interchangeable parts.
Although Tin Lizzie has been a centenarian for a number of years now, this classic beauty seems to become even more attractive with age. The Ford Model T was the first vehicle to be produced on moving assembly lines and marketed to America's growing middle class, quickening production time and lowering costs.
Today, the car is still beloved by collectors due to its iconic looks, as well as its storied role in automotive history.
Vehicle: Coupe, Sedan, Rear-Wheel Drive, 4-Passenger
Engine: 2.9-liter 4-cylinder
Horsepower: 20 hp
Top Speed: 40 mph
Seating Capacity: 4
8. 1964 Ford Mustang
America's most iconic muscle car.
The first Ford Mustangs were badged as 1965 models however the earliest cars were actually produced between March 9 and July 31, 1964.
Often dubbed the 1964 1/2 Mustang, the aggressively styled coupe sparked a pony car revolution, with Chevrolet, Dodge and others scurrying to release their own take on the affordable sports car. Today, the Mustang is rightly revered as an icon of American muscle, and remains a popular entry-level automobile for budding collectors thanks to its relative low price and high availability.
Vehicle: Convertible, 2-Door Convertible, V8 Engine
Engine: 2.8-liter V8
Horsepower: 105 bhp
0-60 mph: 7.5 sec.
9. 1961 Jaguar E-Type
A jack-of-all-trades sports car that is also one of the world's most stunning.
Widely regarded as one of the most beautiful cars to ever grace the road, the Jaguar E-Type, introduced in 1961, is undoubtedly also one of the most fun. While several of the vehicles on our list were produced with racing in mind, the E-Type was developed for all-around driver satisfaction.
Designed and manufactured in the West Midlands town of Coventry, this sleek sports coupe seems custom-built for the backcountry roads of rural England — and in many ways it was. From the racetrack to roadways, Jaguar's much sought-after sports coupe remains a striking example of well-purposed performance engineering.
Vehicle: Coupe, 2-Passenger, 2-Door Coupe
Engine: 3.8-liter
Seating Capacity: 2
10. 1955 Mercedes-Benz 300SL
This iconic Gullwing coupé was the fastest car of its time.
Developed as a commercial version of the Mercedes-Benz W194 race car, the Mercedez-Benz 300SL was the first consumer vehicle to incorporate direct injection and also the fastest production car of its time, with a top speed of 161 mph. Its estimated worth is $4 million.
Famous for its iconic gull-wing doors, the Mercedes-Benz 300SL is reminiscent of a bird in flight — and fly it does. The spirit of the 300SL lives on today in the Mercedes-Benz SLS AMG, whose elongated body style and characteristic gull-wing doors pay tribute to the classic sports coupe. However, for many, nothing can quite replicate the innovative spirit and excitement of the original.
Vehicle: Coupe, 2-Door Coupe, 2-Passenger
Engine: 2996 cc M198 SOHC I6
Horsepower: 212 hp
Seating Capacity: 2
11. 1925 Rolls-Royce Phantom I
This is the iconic brand's first luxury sedan.
As the first edition of Rolls-Royce's long-running line of luxury sedans, the Phantom I set the standard for high-end automobiles upon its release in 1925.
Famous for its smoothness, speed and reliability, Rolls-Royce's flagship model boasted a level of craftsmanship and quality of materials that have helped to maintain the Phantom's legendary status into the present day. However, as its name implies, a seat behind the wheel of this classic car can be quite elusive — the going rate for a 1925 Phantom I in today's market is estimated at a cool $1.2 million.
Vehicle: 4-Door Sedan, Rear-Wheel Drive, Front Engine, 4-Passenger
Engine: 7.7 Litre, 7668cc 6-cylinders
Horsepower: 95 hp
Top Speed: 90 mph
Seating Capacity: 4
12. 1938 Talbot-Lago T150C
A supercar of its time.
Instantly recognizable thanks to its distinctive teardrop ("Goutte d'Eau") design, the Talbot-Lago T150C was one of the most influential cars of the Art Deco era. Designed by Italian-born Giuseppe Figoni, the T150C was built in part as a response to the more functional, streamlined shapes of the 1920's; however, that's not to say the it was all style and no substance.
Engineered for competition, the Talbot-Lago turned heads both on the parkway and on the track, placing well in world-renowned races like the 24 Hours of Le Mans. Today, the T150C continues to find itself in the winner's circle, taking home top honors at prestigious Concourses d'Elegance and classic.
Vehicle: 2-Door Coupe, Front Engine, Rear-Wheel Drive, 2-Passenger
Engine: Inline-6 with hemispherical combustion chambers
Horsepower: 140 hp
Top Speed: 115 mph
Seating Capacity: 2
13. 1940 Vauxhall Wyvern Caleche
A classic Australian roadster.
The "Caleche" on our list was made in 1940 and is essentially a 2-door roadster with a folding windshield screen. According to some sources, the name Wyvern is based on a mythical beast which is closely associated with the griffin on Vauxhall's emblem.
Not to be confused with the Vauxhall Wyvern that was produced in the UK nearly 10 years later, this "Caleche" model was first built in Australia in 1938. General Motors-Holden began making the vehicle as an H Series, which included sedan, roadster, tourer and "Caleche" models.
Vehicle: Sedan, 2-Passenger
Engine: 1442 cc Straight-4
Horsepower: 35 hp
Seating Capacity: 2