Best Digestifs
Your Guide to After Dinner Digestifs
The perfect end to a filling meal — digestifs are after-dinner alcoholic beverages that aid digestion. Not to be confused with apéritif, a light spirit consumed before a meal to spark the appetite, digestifs are traditionally higher in alcohol and tend to be sweeter, usually made with a secret blend of herbs and spices.
Digestif is a French word, but this drink has become a tradition in many cultures around the world. Some spirits are considered digestifs, such as grappa, Armagnac and Cognac.
GAYOT's Featured Digestifs, however, are those that don't fit these categories, but are rather strictly known as digestifs.
1. Cardamaro
Origin: Canelli, Italy
Price: $20.99 for 750 ml.
ABV: 17%
By: Haus Alpenz
This wine-based Amaro was developed over 100 years ago by the Bosca family and is a true expression of Piemonte tradition.
It's a naturally-colored alternative to Cynar, getting its dark color from the infusion of cardoon, blessed thistle and other botanicals. It ages in new oak for at least six months, resulting in a rich liqueur with flavors of fresh pine, dried fruit and roasted nuts.
2. Comte de Lauvia 1960
Price: $279.99 for 750 ml.
ABV: 40%
By: Lauvia Armagnac
Birthed at the Château de Champagne d'Armagnac in Gascony, France, Comte de Lauvia Armagnac is distilled from the traditional Ugni blanc and Folle blanche grape varietals.
It is then aged in black oak, where it extracts and develops flavors of figs, intense prunes and vanilla, along with hints of banana. The luscious nose is consistent with the flavors on the palate, with the addition of light floral notes coupled with raisins. Dreamy and ethereal, mature yet intense, this Armagnac was developed through years of aging in the caves of France, and remains a spirit for the ages. Perfect for celebrations, sip it after dinner or with a savory dish like osso buco or classic Peking duck.
3. Distillerie Berta Bric del Gaian 1998 Moscato d'Asti Grappa
Origin: Mombaruzzo, Italy
Price: $180 for 750 ml.
ABV: 44%
By: Distillerie Berta
The 1998 Bric del Gaian from Distillerie Berta is among the most aromatic grappas ever made.
There's no need to fight through the 44 percent alcohol, because it is in perfect balance with the Moscato grape-driven aromas. A hint of ginger and vanilla bean are overtaken by the floral notes of honeysuckle and orange blossom. The palate delivers the perfect ripeness of summer-raised peaches, oranges and apricots surrounded by honey and almonds. The pungent and powerful profile of grappa is redirected here into an elegant and approachable spirit of high merit.
4. Distillerie Berta Tre Soli Tre 1998
Origin: Mombaruzzo, Italy
Price: $199 for 750 ml.
ABV: 44%
By: Distillerie Berta
Born in the Mombaruzzo area of Italy's Asti Province in the wine growing region of Piedmont, Berta Tre Soli Tre is a stunning grappa.
It presents the marriage of the king of Italian grapes, Nebbiolo de Barolo, and one of the great distilleries in all of Italy run by the Berta family. Most grappa is clear, but this one is the rich amber brown of the heartland. This is a powerful spirit at 44% ABV and composed of richness derived from the Nebbiolo de Barolo. Shockingly ripe notes of blackberry and cassis together with vanilla and a touch of both apricot and sweet cherries engage all your senses at once. The nose acquires the bouquet of the Piedmont region while delivering to the palate an exceptionally balanced flavor profile finishing like a complex and delicious dessert.
5. Fernet-Branca
Origin: Milan, Italy
Price: $25.99 for 750 ml.
ABV: 39%
By: Fratelli Branca
Bernandino Branca first created Fernet-Branca bitters in 1845, which led to the beginning of the famous Fratelli Branca Distillery.
This digestif is based on the same secret recipe that Branca created in 1845. It offers rich bitter flavors of myrrh, chamomile, cinnamon, saffron and bitter orange.
6. Germain-Robin Anno Domini 2005 Alambic Brandy
Origin: Ukiah, CA, U.S.
Price: $400 for 750 ml.
ABV: 40%
By: Craft Distillers
Some spirits are crafted well, some boast a remarkable smell, and still others are standard-bearers for their category.
The Germain-Robin Anno Domini 2005 Alambic Brandy is in an altogether different class of spirits that are simply irresistible. This limited release (only 200 bottles were made; we tasted number 101) shows off the best of Mendocino, California's grapes distilled by the hand of a master, before resting in French Limousin oak until mature. The 2000 edition was renowned, the 2001-2004 editions were all award-winners, but the 2005 version is the pinnacle of both the concept and the distiller. Magic!
7. Germain-Robin Single Barrel Muscat Brandy
Origin: Ukiah, CA, U.S.
Price: $140 for 750 ml.
ABV: 44%
By: Craft Distillers
In the new millennium, Cognac is considered hip, now, and sells strongly as rappers have embraced the drink, and even created some of their own.
But brandy is regarded a fuddy-duddy old-fashioned spirit, an anachronistic after-dinner beverage for old codgers to enjoy when they retire to the card room with cigars after dinner. News flash: all Cognacs are brandies! The word comes from brandwijn (or "burnt wine"), and is basically a concentrated wine which is distilled and barrel-aged. Brandy that comes from the Cognac region of France — which has ideal soils and climate for the spirit, as well as a special distillation process — is known as Cognac. So, not all brandies are Cognacs.
This particular brandy is from Mendocino County, California, where Hubert Germain-Robin hand-distills high quality varietal wine grapes on a pot still from, of all places, Cognac. After aging, the proof is lowered to 88 by the addition of filtered rainwater. The rich, complex spirit is made from 100 percent Muscat grapes from the 1999 harvest. There's plenty of orange peel which shows up pleasantly in the nose. The orange flavors continue on the palate, where the brandy plays oh-so-softly, and a delightfully clean, citrusy aftertaste. If Gin 'n' Juice is worth rapping about, then this deserves a symphony.
8. Jägermeister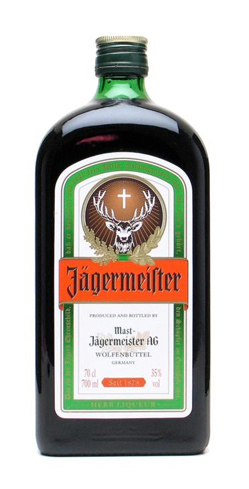 Origin: Wolfenbüttel, Germany
Price: $19.99 for 750 ml.
ABV: 35%
By: Jägermeister
This hunter-inspired German classic combines 56 secret herbs and spices to make a licorice-flavored liqueur.
Known to have been used as an herbal remedy in German households, Jägermeister's spicy, herbal flavor makes for a great post-dinner drink.
9. Lucid Absinthe

Origin: Saumur, France
Price: $65 for 750 ml.
ABV: 62%
By: Combier Distillery
Absinthe made with wormwood was prohibited in the United States for nearly a century.
Lucid Absinthe claims to be the only genuine absinthe available in the country that is made from Grande Wormwood (Artemisia absinthium). Some absinthe aficionados say it is still missing thujone, the chemical believed to cause the alleged hallucinogenic properties of the drink, but the makers insist otherwise. You be the judge, but keep in mind this potent anise- and fennel-flavored spirit is a whopping 124 proof. While some complain that the anise flavoring has been downgraded for the American palate, we found the French import enjoyable but not overbearing. Try the green goodness the old-fashioned way, with sugar cubes and slotted spoon, as the louching ritual allows you to enjoy the release of the oils both visually and olfactorily, taste the unadulterated flavor, as well as get a throwback thrill. Or try it in a cocktail.
10. Macchu Pisco
Price: $27 for 750 ml.
ABV: 40%
By: Macchu Pisco
Pisco is a burgeoning category in the world of mixology, and the superior flavor and quality of Macchu Pisco is helping to fuel that growth.
Purity is part of pisco's allure. This unadulterated spirit is made of just one ingredient: grape juice. Peruvian regulations decree that nothing, not even water, can be added when producing this alcohol. Founded in Peru in 2005, the Macchu Pisco company is a rarity in the world of spirits — its owner, master distiller and blender is a woman. In Peru's Ica Valley, the home of Macchu Pisco, top-quality Quebranta grapes are pressed by foot, then fermented and distilled in copper pot stills. The final product is medium-bodied, with vanilla, lime, lemongrass and earthy notes.
11. Margerum Wine Company Amaro
Origin: Santa Barbara, CA, U.S.A.
Price: $50 for 750 ml.
ABV: 23%
By: Margerum Wine Company
Amaro means "bitter" in Italian, which is Margerum Wine Company's house recipe of the fortified wine.
It is made with herbs, such as sage, thyme, rosemary and mint, dried orange peel and caramelized simple syrup. Serve chilled, or as a bitter part of a cocktail.
12. Père Magloire Grand Pommier XS Calvados
Origin: Pont-l'Évêque, France
Price: $300 for 750 ml.
ABV: 40%
By: Père Magloire Calvados Distillery
The Grand Pommier, or Great Apple Tree, is an Extra Special Reserve Calvados with a subtle, refined spirit and a full-bodied finish of apple wood and spice, without the use of any preservatives or additives.
Since 1821, the legendary French Père Magloire Calvados Distillery has been producing world-class product, and now delivers a complete after-dinner event in a bottle. As a present is not fully wrapped without a bow, so does the Fuente Forbidden X cigar encapsulated in the specially designed bottle provide the finishing touch to a perfect pairing with this extraordinary Grand Pommier XS Calvados. Here's finally a design with substance in both the stellar spirit and the accompanying world-class cigar. It's a great way to finish an evening — or start a party.
13. Roger Groult Réserve Ancestrale 50 Year Old
Origin: Saint-Cyr-du-Ronceray, France
Price: $280 for 750 ml.
ABV: 40%
By: Roger Groult
The complexities of this spirit lend it to a myriad of uses.
Enjoy it as a rare digestif, on the rocks, neat or in a magical cocktail. The apple-based spirit's quality is the result of equal parts tradition and attention to detail. There are no pesticides or mechanical pickers used; instead, several generations of family insight since the mid-1800s have yielded a multi-stage process that involves the hand-harvesting of more than 50 varieties of apples. These stages include: le rodage — picking up fallen apples first; then la récolte — the shaking of the trees to dislodge the fully ripe apples; and last, la troisième — searching the earth under the trees to collect the strays.
It takes nearly 65 pounds of these apples to produce this 50-year-old dream Calvados. A hand-made, artisanal 140-proof treasure with intense aromatics, it offers deep rich earth and a touch of the sea, coupled with the smell of grade school books and a tender, finessed mouthfeel to be enjoyed and celebrated. It's a taste of history with a long finish — true to the land of Normandy from which it hails.