AQUA by El Gaucho
2801 Alaskan Way, Pier 70
Send to Phone
206-956-9171
| Make Restaurant Reservations
| Menu
Elegance abounds at this waterfront seafood restaurant.
Open

Dinner nightly
Open late

Features
Parking available
Dress code: Casual dressy
Reservations suggested
* Click here for rating key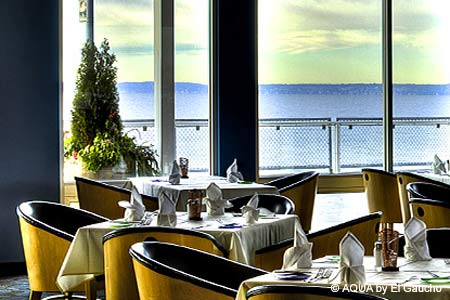 AQUA by El Gaucho Restaurant Review
: AQUA by El Gaucho offers views of Elliott Bay and the snow-capped Olympic Mountains, and from the bar, the Space Needle. The dining room is cavernous, elegant and slightly corporate, making it a popular choice for business dinners. The menu of quality, and pricey, seafood includes appetizers ranging from pancetta-wrapped prawns and spicy crab bisque sparked with a splash of Johnnie Walker Red to a selection of local oysters. Seafood entrées cover all continents, and include a 16-ounce Australian rock lobster tail and a Thai seafood curry stew with a fragrant coconut ginger broth. Sophisticated comfort food such as crab macaroni and cheese accented with black truffle essence, Parmigiano Reggiano and cream is also available. It's perfectly acceptable to order steak --- the kitchen knows its beef as well as its fish. For a sweet finale, we suggest the dark chocolate ganache, or the Emerald City Volcano Baked Alaska that's set alight tableside. An extensive wine list offers many notable Northwest and California labels.
---
Enter the culinary world of the 2019 Best Restaurants in America with our Restaurants Awards.