Cuisine and wines of southwest France in the Financial District.

Openings:
Open Wed.-Sun.
Features
Parking garage
Dress code: Casual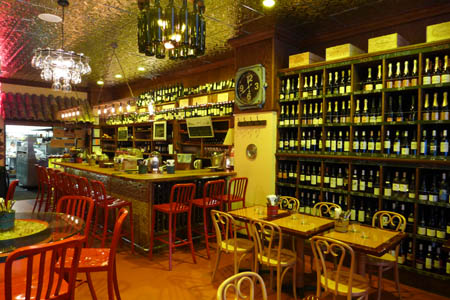 Aquitaine Restaurant Review:

Aquitaine is a joint project from chef Laurent Manrique (Café de la Presse, Rouge et Blanc) and business partners Chris Condy and wine director Andrew Fidelman from Blanc et Rouge. Dining here is a great value, made even more appealing by the warm, convivial atmosphere and charming décor featuring a tin ceiling, barrel tables by the bar, and chandeliers incorporating wine glasses and bottles. Large wine racks display the bottles available for purchase. There are also a few tables on the sidewalk patio as well as a downstairs lounge called "La Cave" that serves as a private events space. The concise menu is well executed and full of traditional recipes you're not likely to encounter anywhere else in the city, such as the Escantoun Landais (rosemary polenta with Pyrénées cheese and cherry tomato). Smoked duck bacon and piment d'espelette bring a flavor boost to deviled eggs, and the pommes frites served in a wooden shoe are sure to bring a smile to your face. At lunch, the Reuben sandwich gets a French twist with duck confit, pastrami, Swiss, pickled onions and rémoulade. Desserts include rice pudding (serves two), chocolate molten cake and île flottante (floating island). As for the serious wine program, about 80% of the selections are from the Aquitaine area, including Bordeaux. You'll also find esoteric, hard-to-find wines from the southwest region of France. By-the-glass wines are offered. Cocktails are not available, but the restaurant does mix up some creative apéritifs such as La Femme Fatale (Lillet, sparkling cider, jalapeño, basil).
---