---
---
Open

Lunch Wed.-Fri., Dinner Wed.-Sun., Brunch Sat.-Sun.

Features
Parking lot
Dress code: Business casual
Reservations suggested
* Click here for rating key
---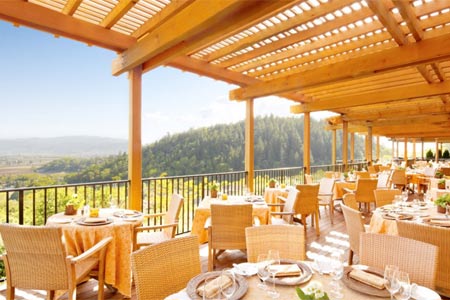 ---

Operations may be disrupted due to COVID-19. Be sure to contact the restaurant to find out its current status and offerings.


---


Auberge du Soleil Restaurant Review
: A destination for romantic dining, Auberge du Soleil also enjoys a brisk lunch trade, despite its comparatively remote location. Nestled high in the eastern wall of Napa Valley, it boasts a deck affording views (on a clear day) all the way to the Mayacamas Range, the natural divide between Sonoma and Napa counties. It's a perfect backdrop for an afternoon respite. At dinnertime, the menu may include openers such as day boat scallop with pork belly, English peas and red curry. Main courses might range from Prime beef pavé to spiced local lamb, and veal wrapped in bacon with white corn, beignet, chanterelles and shallot. End the meal with a selection of artisan cheeses or choose from desserts like frozen yogurt mousse, blackberries and white velvet cake. Affable waitstaff is attentive but not overbearing, always at the ready but respectful of diners' privacy. Moreover, they are well-versed in the cuisine from executive chef Robert Curry and the globetrotting wine list (local wines are well-represented, too) and know how to pair these elements in ways that showcase the food and the wine. Their recommendations will not disappoint, nor will the evening ambience, which is bolstered by the western setting sun that bathes the valley in amber light.
---
TRENDING ON GAYOT.com

> PRIMO PIES: Best Pizza Restaurants Near You. See the lists.

> LAS VEGAS DINING: Al Solito Posto Is Another Masterpiece by Chef James Trees. Read GAYOT's review.

> WINE PICKS: The 13 Best Sauvignon Blanc Wines in 2022. See the list.
---
GAYOT's Wine & Spirits Editor presents the
Wine of the Week, featuring tasting notes as well as history on the vineyards and winemaker.

The view is not the only reason to dine at Calabra in Santa Monica, CA.
Read the review and see photos
.