Lester's
9906 Clayton Rd. (Dwyer Pl.)
Send to Phone
314-994-0055
| Make Restaurant Reservations
| Menu
Lester's covers all the bases with its mix of sports, food and atmosphere.
Open

Lunch & Dinner daily

Features
Parking lot
Dress code: Casual
* Click here for rating key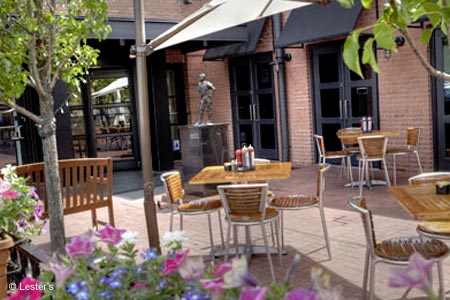 Lester's Restaurant Review
: Die-hard fans may enjoy debating the merits of the players whose memorabilia adorns the walls, but the bigger decision is which of the house-prepared meats is most tempting: New York-style pastrami, beef brisket or apple wood-smoked barbecued ribs, among others. A combination may be the way to go, like the barbecue burger with pulled pork or the deli slider platter. Don't miss sides such as chicken soup with matzoh balls, traditional potato pancakes or sweet potato fries. Predictable desserts like ice cream or chocolate cake satisfy the kids who roll through with their parents on weekend afternoons. Craft beers on tap and in bottles pair especially well with the barbecue and also lubricate the popular happy hour, which fills to standing room only most weeknights. Tableside controls in the booths let diners choose their game and adjust volume.
Sign up to receive the 2019 edition of GAYOT's Annual Restaurant Awards. We honor America's best chefs, a top restaurateur and more.