Pizzaiolo
5008 Telegraph Ave. (51st St.)
Send to Phone
The food-centric Temescal district is home to this standout pizza joint.
---
---
Open

Café Breakfast Mon.-Sat., Dinner nightly

Features
Dress code: Casual
Reservations suggested
* Click here for rating key
---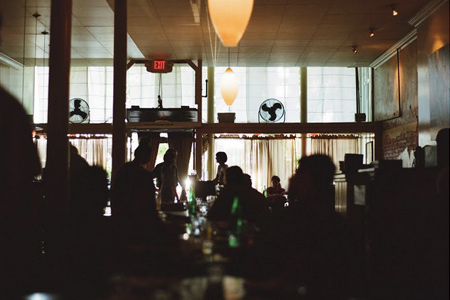 ---

Operations may be disrupted due to COVID-19. Be sure to contact the restaurant to find out its current status and offerings.


---


Pizzaiolo Restaurant Review
: Oakland's food-centric Temescal district counts this hifalutin pizza joint as one of the sparkling jewels in its crown. Bare brick walls, a rock 'n' roll soundtrack and artisan lighting create a hip, loud, alterna-dining atmosphere. Good food means there's always a wait, but walk-ins may dine at the wine bar or sit communally for faster service. The small, selective menu features daily salads, pastas, meats, side vegetables and Neapolitan pizza from the wood-burning oven. Fresh, house-baked focaccia is turned into croutons for the mild Caesar salad. A plate of milk-braised Niman Ranch pork shoulder is met with turnips and greens, firm, flavorful Romano beans, and delicate fennel. The pizza is worth the wait --- a blackened, blistered crust yields the perfect chew, made better by ricotta-like grana cheese, salty, flavorful speck, and a salad-size mound of piquant arugula. The wine list features a fine Italian selection, including Lambruscos and Barberas. Breakfast café service features two Oakland specialties: Blue Bottle coffee and Blue Chair Fruit Company jams. A beautiful, rustic back patio is a treat on warm evenings, a bit of Tuscany in Oakland.
---
Takeout & Delivery Restaurants in San Francisco & the Bay Area

Many dine-in establishments in San Francisco & the Bay Area are temporarily closed, but we've rounded up restaurants that are offering takeout and delivery.


---
---