---
---
Open

Lunch Mon.-Fri., Dinner nightly, Brunch Sat.-Sun.

Features
* Click here for rating key
---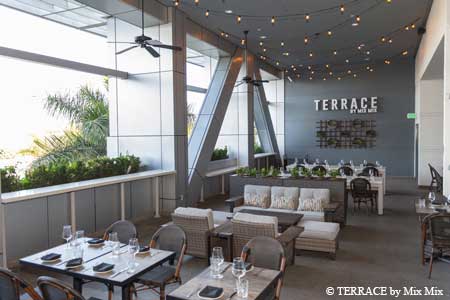 ---

Operations may be disrupted due to COVID-19. Be sure to contact the restaurant to find out its current status and offerings.


---


TERRACE by Mix Mix Restaurant Review
:
About the restaurant & chef: This South Coast Plaza venue is about as aesthetically striking as a shopping center restaurant can get. Its compact dining room leads to a spacious outdoor patio overlooking the Bridge of Gardens at the edge of the plaza's Crystal Court area, giving it the sophisticated metropolitan feel that's consistent with this luxurious slice of OC. As good as they are, the surroundings play second fiddle to executive chef Ross Pangilinan, who made his bones a few blocks down the road at Leatherby's Cafe Rouge before opening the acclaimed downtown Santa Ana restaurant (and sister spot) Mix Mix. Pangilinan returns to his old stomping grounds triumphantly.

Likes: Spacious outdoor seating.
Dislikes: Indoor seating is too compact.

Food & Drinks: Each dish Pangilinan creates intertwines compositional art with the science of flavor in fine fashion, bound with dashes of smart international influence. He executes complex changes with simple touches --- shallot marmalade and Calabrian chiles for his meatballs; fig compote and roasted chicken jus for his must-order duck breast. It's a simplicity that amplifies the importance of letting the quality of well-sourced ingredients shine on their own merits. This is evident in starters such as the roasted mushrooms in oyster sauce with sesame seeds and the butternut squash agnolotti with pomegranate, as well as mains like beef rib-eye with roasted grapes and tomatoes. Pangilinan also sneaks in nods to his Filipino culinary roots through dishes like his pork cheek adobo. Desserts are highlighted by the coconut panna cotta with mango sorbet and ube, a treat that's decadent without feeling overindulgent. The wine list features a thoughtful mélange of domestic and international labels, and there are plenty of cocktails to sip on as you take in the patio's elevated view. On weekends, Pangilinan's vision extends to innovative brunch items such as pork rib-eye Benedict with kale, Yukon potato, and yam hash.
---
---
GAYOT's Wine & Spirits Editor presents the
Wine of the Week, featuring tasting notes as well as history on the vineyards and winemaker.