Angelo's Civita Farnese
141 Atwells Ave.
Send to Phone
Angelo's Civita Farnese, open since 1924, is a landmark Italian eatery with multigenerational appeal.
---
---
Open

Lunch & Dinner daily

Features
Valet parking
Dress code: Casual
Reservations suggested
* Click here for rating key
---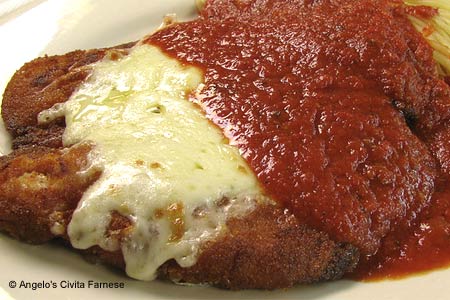 ---

Operations may be disrupted due to COVID-19. Be sure to contact the restaurant to find out its current status and offerings.


---


Angelo's Civita Farnese Restaurant Review
: Set amidst the bustling butcher shops, pasta stores and bakeries of Federal Hill, this quintessential Italian eatery, in a neighborhood full of quintessential Italian eateries, stands out. Guests share the tables: everyone sups together, family-style. Sure, the dining room has been renovated and a lounge area installed, but there's still an utter lack of pretense. Angelo's is all about the food, not impressing a date or business partner. On the menu are Southern Italian staples such as red-sauce (called "gravy" here) pastas, veal Parmigiano, pasta e fagioli and house specialties like braciola and the veal and peppers, each better-priced than the last. Stuffed eggplant is a standard --- it's the house special three nights a week --- and the braciola is made with the same recipe as in 1924. If you've spent more than $25 on dinner, you've probably eaten way, way too much; it's easy enough to spend half that amount and walk away satisfied.
---
---
---