Set in an old Victorian with ample outdoor seating, dining here is casually charming and unhurried.

Openings:
Lunch Mon.-Sat., Dinner nightly, Brunch Sun.
Features
Parking lot
Dress code: Casual
Reservations suggested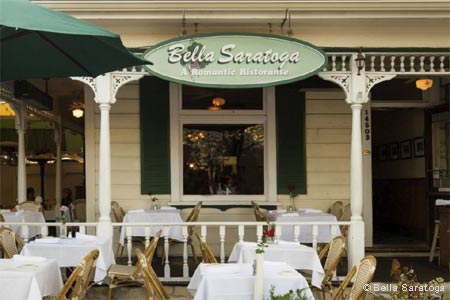 Bella Saratoga Restaurant Review:

With a varied menu to cover the classic taste requirements of Saratoga's longtime residents, Bella Saratoga serves up fresh salads (highly recommended are the Gorgonzola with green apples and candied pecans, the Saratoga arugula with mozzarella, the Cobb and the cashew chicken) and sandwiches (almond chicken salad, Bella burger and baked eggplant are standouts) for lunch daily. They are accompanied by the signature house-baked bread and cheese dip. Carpaccio is very good with arugula, capers, lemon and a drizzle of white truffle oil. Pastas are made in house: try the linguine di capra with eggplant, roasted red peppers, sun-dried tomatoes, crimini mushrooms and goat cheese. Dinner gets more adventurous with well-prepared cioppino, petrale sole, chicken saltimbocca and chicken and prawns Marsala. You'll find a laudable wine selection with several local labels. Desserts can include Grand Marnier or praline cheesecakes, pecan turtle pie and mud pie.
---