Bella Saratoga
14503 Big Basin Way (4th St.)
Send to Phone
Set in an old Victorian with ample outdoor seating, dining here is casually charming and unhurried.
---
---
Open

Lunch Mon.-Sat., Dinner nightly, Brunch Sun.

Features
Parking lot
Dress code: Casual
Reservations suggested
* Click here for rating key
---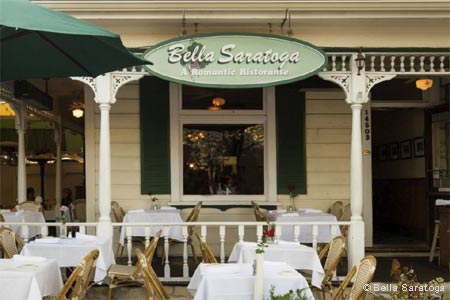 ---

Operations may be disrupted due to COVID-19. Be sure to contact the restaurant to find out its current status and offerings.


---


Bella Saratoga Restaurant Review
: With a varied menu to cover the classic taste requirements of Saratoga's longtime residents, Bella Saratoga serves up fresh salads (highly recommended are the Gorgonzola with green apples and candied pecans, the Saratoga arugula with mozzarella, the Cobb and the cashew chicken) and sandwiches (almond chicken salad, Bella burger and baked eggplant are standouts) for lunch daily. They are accompanied by the signature house-baked bread and cheese dip. Carpaccio is very good with arugula, capers, lemon and a drizzle of white truffle oil. Pastas are made in house: try the linguine di capra with eggplant, roasted red peppers, sun-dried tomatoes, crimini mushrooms and goat cheese. Dinner gets more adventurous with well-prepared cioppino, petrale sole, chicken saltimbocca and chicken and prawns Marsala. You'll find a laudable wine selection with several local labels. Desserts can include Grand Marnier or praline cheesecakes, pecan turtle pie and mud pie.
---
TRENDING ON GAYOT.com

> SEAFOOD & WINES: The 13 Best Wines for Pairing with Seafood in 2022. See the list.

> WINE & SEAFOOD: What are the best wines to pair with seafood? See GAYOT's Guide.

> MEZCAL: 4 Great Craft Cocktail to make at home. Get the recipes.
---
GAYOT's Wine & Spirits Editor presents the
Wine of the Week, featuring tasting notes as well as history on the vineyards and winemaker.

The view is not the only reason to dine at Calabra in Santa Monica, CA.
Read the review and see photos
.