In a resort setting, bluEmber offers a menu highlighting local flavors.

Openings:
Breakfast, Lunch & Dinner daily
Features
Valet parking & parking lot
Dress code: Casual dressy
Entertainment: Live music Wed.-Sun.
Reservations suggested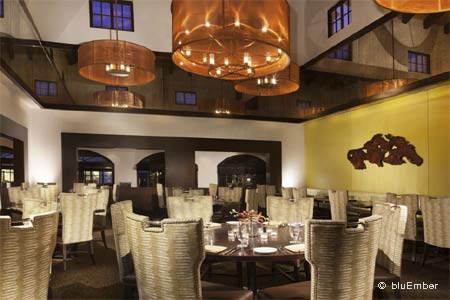 bluEmber Restaurant Review:


About the restaurant: Hotel restaurants have to cater to many tastes, so chefs often find themselves performing a difficult balancing act to meet those needs. Omni Rancho Las Palmas Resort & Spa's bluEmber does a decent job managing this challenge, offering creative fare that's not over the top.

Likes: Outdoor patio.
Dislikes: Hotel setting.

Food & Drinks: The California/New American menu seems to draw from seasonal and local flavors. While the artichoke appetizer isn't exactly innovative, the caper garlic aïoli that accompanies it makes the dish a great start to a meal. Buffalo-style deviled eggs with cracklin' blue cheese are a fine option for sharing. Entrées include a Kurobuta pork tenderloin with butternut squash purée, prosciutto chip and apple reduction. Wild mushroom raviolis with truffle cream and goat cheese were light yet filling. Lovers of Medjool dates will be pleased to find multiple options featuring the fruit --- the date poppers with jalapeño marmalade were almost as good as the pumpkin and date gnocchi. On the wine list, expect an array of domestic and international selections. Happy hour is a real bargain. And a drink is likely the first thing that will pop into visitors' minds, as the bluEmber bar sits right at the venue's entrance, and arched windows overlook the resort grounds.
---