Burger Lounge
4116 Adams Ave. (Kensington Dr.)
Send to Phone
619-584-2929
| Make Restaurant Reservations
| Menu
Multi-location eatery with a groovy setting for casual grass-fed burgers, fries and shakes.
Open

Lunch & Dinner daily

Features
* Click here for rating key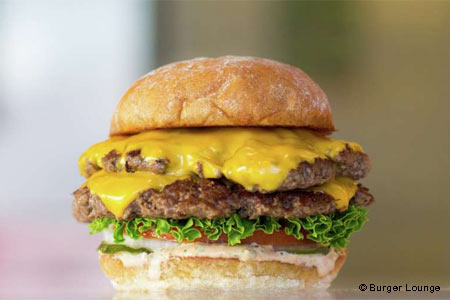 Burger Lounge Restaurant Review
: The Burger Lounge is a godsend for Kensington families. The artsy neighborhood has its share of upscale eateries (Bleu Boheme, Kensington Grill) but lacked a family-friendly, casual spot for good burgers and fries. And the fact that all the meats and other ingredients are free-range, grass-fed and mostly organic gives the upwardly mobile Ken denizens even more reason to feel good about stopping in. The menu is short but satisfying: beef, turkey and veggie burgers, salads, chicken skewers, fries, onion rings and milk shakes. The meat, unfortunately, tends to be a little tough and overcooked. Perhaps this is the price one pays for more humane, ecologically correct beef, but we'd like to see a medium rare burger with meatier flavor. Despite this flaw, the pluses outweigh the minuses. The fries are crisp, the onion rings are crunchy, the buns and toppings are topnotch --- even the chicken skewers are moist and tender. We also like the organic quinoa salad –-- a cornucopia of healthy bites with baby kale, spinach, arugula, feta, smoked almonds, roasted squash and zucchini, all in a smoked tomato vinaigrette. Other locations.