Chef Geoff's
3201 New Mexico Ave. NW (Lowell St. NW)
Send to Phone
202-237-7800
| Make Restaurant Reservations
| Menu
This Wesley Heights eatery offers upgraded, accessible American fare.
Open

Lunch Mon.-Sat., Dinner nightly, Brunch Sun.

Features
Parking available
Dress code: Casual
Entertainment: Entertainment
Reservations suggested
* Click here for rating key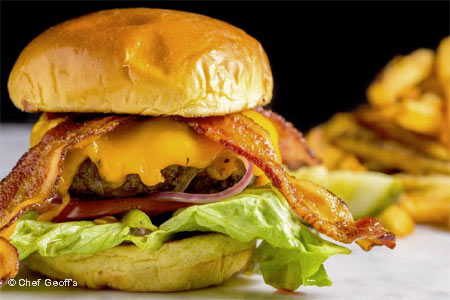 Chef Geoff's Restaurant Review
: Chef Geoff Tracy's first restaurant is situated in a cozy, old Washington neighborhood not far from American University. Tracy has mastered the upscale casual spot idea, but offers upgrades across the menu. Sure, he has a juicy beef burger, but he brings tasty salmon and tuna burgers along as alternatives. For veggie fans, there is the portobello sandwich with a tangy goat cheese spread. But it's not all about sandwiches and appetizers, although the lure of the hot potato chips with oozing blue cheese is hard to resist. The simpler entrées are the way to go, namely the Bavarian veal chop or the beet and goat cheese ravioli --- these are comparable to what you'd find at downtown eateries for quality and preparation, but without the sticker shock. While the menu changes regularly, many of the desserts are mainstays, including the fresh-baked milk and cookies and addictive root beer float. A strawberry-rhubarb crostata is a seasonal special, made even better with a scoop of lemon ice cream.