Edomasa
2710 De La Vina St. (Alamar Ave.)
Send to Phone
Santa Barbara's oldest late-night sushi bar, Edomasa serves up traditional Japanese food in a modest environment.
---
---
Open

Dinner nightly
Open late

Features
Parking lot
Dress code: Casual
* Click here for rating key
---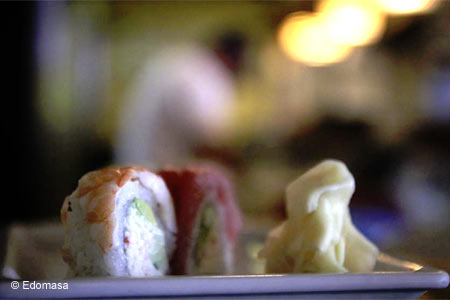 ---

Operations may be disrupted due to COVID-19. Be sure to contact the restaurant to find out its current status and offerings.


---


Edomasa Restaurant Review
: To quell a late-night hankering for uni or udon, this unpretentious Japanese restaurant is traditional and uncomplicated. That's not to say, however, that dining here should be confined to after-hours. Located in a nondescript building in a quiet section of town, the restaurant has none of the charm of its more popular downtown siblings, and is at a loss for ambience. The menu is heavy on familiar favorites such as teriyaki, sukiyaki and tempura. You won't find much in the way of experimental fusion, but a number of specialty rolls bolster the sushi list, and the extensive array of appetizers provides diversity. For a particularly rich and indulgent dish, try the Una-Ju --- a thick filet of freshwater eel covered in sweet sauce and served over a bed of rice. And if you're in the mood for something besides mochi for dessert, consider mitsumame; the Japanese-style fruit cocktail is available alone or with ice cream. Service at Edomasa is friendly, but inefficient. They have a tedious wine list, but a somewhat better selection of saké and Japanese beer. It gets crowded early.
---
---
---