Manolin
3621 Stone Way N. (N. 36th St.)
Send to Phone
206-294-3331
| Make Restaurant Reservations
Manolin honors the delights of seafood in a statement-making setting.
Open

Dinner Tues.-Sun.

Features
* Click here for rating key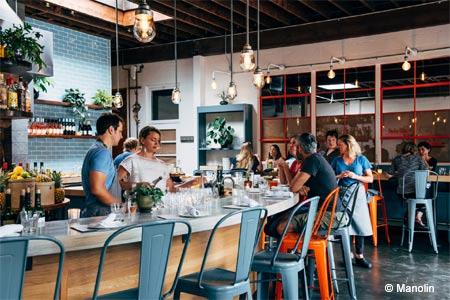 Manolin Restaurant Review
: The giant horseshoe of a bar with its glossy gray counter sweeps diners into a room that has an ambience commanding attention: high ceilings punctuated by skylights; sea-blue tiles; a wood-fired grill taking up residence at one corner. The space, like the menu itself, makes a grand statement without being grandiose. Both preach simplicity while singing an ode to the ocean and all the foods it provides. On offer are multiple types of ceviche, tea-poached squid, and halibut in a spring mole sauce. In each of these dishes, the fish (like the vegetables and meat in other selections) is revered, a centerpiece, while small details --- like the crispy quinoa paired with the squid --- do the real heavy lifting that makes dining at Manolin so enchanting. Desserts showcase the same inventive notes, seen in the knock-out fernet panna cotta with bitter chocolate. The wine list is limited, focusing primarily on bubbles, with options hailing mainly from Italy or France. Creative cocktails are each named for a beach in the Puget Sound region.