Elegant dining in a historic Victorian mansion in downtown Raleigh.

Openings:
Dinner Tues.-Sat.
Features
Parking lot
Dress code: Casual dressy
Reservations suggested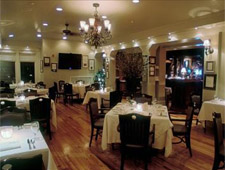 Second Empire Restaurant Review:

This restored 1879 Second Empire Victorian mansion may be the most elegant restaurant setting in the city. Such details as an ornate hand-carved staircase and white linen-draped tables set with fine china result in high expectations, and chef Daniel Schurr's artful dishes lives up to them. His menu changes frequently, with such lavish starters as sautéed veal sweetbreads with a celery root purée and fava bean corn salad, and a duck leg and caramelized butternut squash tart. Equally rich mains include the roasted pork rib chop with red onion and grainy mustard cream served with kohlrabi and acorn squash risotto. Southern touches crop up here and there: fried Georgia quail with sweet potato purée. Among classic desserts are a chocolate soufflé or crème brûlée. Dinner for two will set you back $150 or more, depending on how much the first-rate wine list inspires you to extravagance. If you prefer a more low-key (and slightly less expensive) experience, head down to the basement where the Tavern offers simpler fare ranging from paella to meatballs.
---