Pacifica eatery with prime views and California cuisine.

Openings:
Lunch Sat., Dinner nightly, Brunch Sun.
Features
Dress code: Casual
Entertainment: Jazz Sat.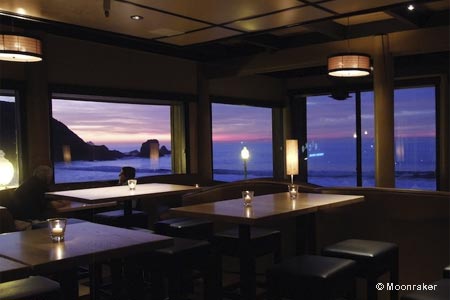 Moonraker Restaurant Review:

A location in a Best Western wouldn't normally lead one to thoughts of the exceptional in anything, but Moonraker takes advantage of the location's early era construction and rare rights to development along the sand to carve out some of the only new restaurant real estate to deliver such striking panoramic views of ocean in action. Three-quarter wall-length windows and an emphasis on booths facing toward the sea offer diners a view of crashing waves, undeveloped coastline and the occasional surfer. Executive chef Jason Yeafoli prepares California continental cuisine with a seaside influence. Crab legs in garlic shallot butter are a highlight and lobster cappuccino provides an intriguing, though lightly flavored, starter. Local produce speckles the menu, from Half Moon Bay artichoke ravioli to sides of toybox carrots. Pastry chef Safir Rezzoug offers desserts ranging from light to butter-rich, with the crispy brown butter apple tart delivering fully on every element of its name, particularly the butter. A reasonable selection of wines and some creative cocktails offer casual diners, or just evening sippers, something to enjoy while watching the burning ball of brightness settle into the sea.
---