Morton's is a shrine to steak in a setting that exudes clubby commerce.

Openings:
Dinner nightly
Features
Valet parking
Dress code: Business casual
Reservations suggested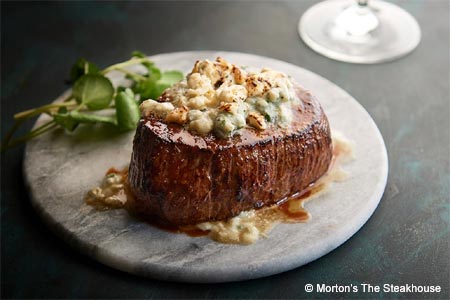 Morton's The Steakhouse Restaurant Review:

If you're in the mood to feel clubby and cosseted, Morton's will be happy to oblige. Private wine lockers reinforce its exclusive aspect --- as do the country-club prices --- and massive amounts of wood paneling only underscore an impression aided and abetted by an intimate bar. (Bar Bites can ease one into the ethos, along with a bespoke martini.) The menu has been tweaked a trifle over the years, as if to remind us that even purveyors of porterhouse are subject to market pressures. Tenderloin steak tacos now nod to local tastes, and there's a prime ocean platter alongside prosciutto-wrapped mozzarella. Most prime designations are reserved for big beef, however, and they awaken the primal carnivore in most of us whether the cut be a Chicago-style bone-in rib-eye or a (comparatively) diminutive center-cut filet mignon. "Colossal" is a term applied to shrimp, as in colossal shrimp Alexander; "jumbo" appears alongside lump crab cakes and crab meat cocktail, as well as asparagus, either steamed or grilled. Big wines are available to match every meat and mood. And at evening's end, there's nothing more apt than a lofty soufflé.
---