---
---
Open

Dinner nightly

Features
Valet parking & parking lot
Dress code: Business casual
Reservations suggested
* Click here for rating key
---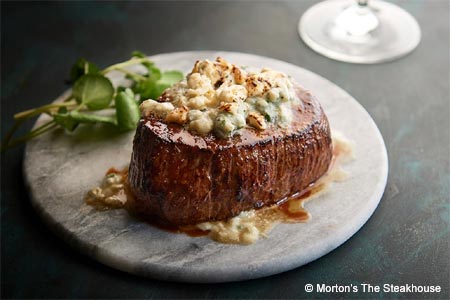 ---

Operations may be disrupted due to COVID-19. Be sure to contact the restaurant to find out its current status and offerings.


---


Morton's The Steakhouse Restaurant Review
: This Morton's The Steakhouse outpost is located across from South Coast Plaza in the tiny South Coast Plaza Village. The contemporized setting features intimate lighting and a grayscale color scheme to create a sleek, romantic vibe. Professional waitstaff present the menu in a flashy show-and-tell recitation, holding up various plastic-wrapped hunks of meat, a giant --- and live --- lobster, potatoes the size of footballs and the biggest stalks of broccoli you've ever seen. Starters include a classic shrimp cocktail, baked escargots and lobster bisque. Among the entrées, juicy steaks star: a New York strip, an enormous double porterhouse and a double filet mignon. Some come here for the spicy Cajun-style bone-in rib-eye, which marinates in spices for at least 60 hours. Also good are the rack of lamb, grilled salmon and chicken with cream sauce. For sides, we recommend the savory potatoes Lyonnaise and the jumbo grilled asparagus with a tangy balsamic sauce. If you're a soufflé fan, pre-order your favorite flavor to arrive for dessert. The wine list is rather long and has some very good by-the-glass special selections, while beer fans may gravitate to the solid collection of Trappist brews.
---
TRENDING ON GAYOT.com

> PRIMO PIES: Best Pizza Restaurants Near You. See the lists.

> LAS VEGAS DINING: Al Solito Posto Is Another Masterpiece by Chef James Trees. Read GAYOT's review.

> WINE PICKS: The 13 Best Sauvignon Blanc Wines in 2022. See the list.
---
GAYOT's Wine & Spirits Editor presents the
Wine of the Week, featuring tasting notes as well as history on the vineyards and winemaker.

The view is not the only reason to dine at Calabra in Santa Monica, CA.
Read the review and see photos
.