Eclectic dining at The Prado is a good companion to the Balboa Park experience.

Open
Lunch & Dinner Tues.-Sun.
Features
Valet parking
Dress code: Casual dressy
Reservations suggested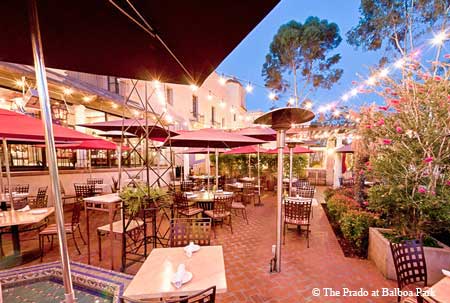 The Prado at Balboa Park Restaurant Review:
Why break the mood? After a day (or evening) spent taking in the latest art exhibit and strolling the grounds of Balboa Park, comparable food is in order. The Prado, tucked into the rebuilt House of Hospitality, hits the spot with its cozy ambience and eclectic menu. We like to start with the trio of skewers (beef, chicken and shrimp) served with assorted sauces and Asian slaw, or the hamachi fish tacos jazzed up with pineapple salsa, avocado purée and soy sour cream. The baby beets with shaved fennel salad is a fine choice as well. Main courses run the gamut from slow-roasted pork prime rib to a rich paella. We prefer the Brussels sprouts and bacon as a hearty side. While the cream cheese flan is a sweet finish, we suggest the chocolate whoopee pies with vanilla bean fluff, toasted pecans, bacon and raspberry sauce.
---