Roscoe's House of Chicken `n' Waffles
1514 N. Gower St. (Sunset Blvd.)
Send to Phone
Always-jumping Los Angeles soul food café specializing in a unique combination: chicken and waffles.
---
---
Open

Breakfast, Lunch & Dinner daily
Open late

Features
* Click here for rating key
---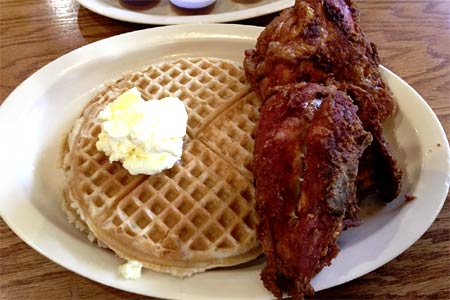 ---

Operations may be disrupted due to COVID-19. Be sure to contact the restaurant to find out its current status and offerings.


---


Roscoe's House of Chicken `n' Waffles Restaurant Review
: The name may sound offbeat, but we assure you that this down-home combination really works, with sweet cinnamon-flavored waffles complementing crispy, Southern-style fried chicken. The prices are a bargain, rendering the Colonel obsolete. Plenty of folklore explains the origins of this dish, popular in the South, but one of the more credible explanations involves nightclubs from the Jazz Age in Harlem, when performers finishing their last set in the wee hours of the morning couldn't decide on dinner or breakfast --- so they were served both at once. The sweetness of the waffles and maple syrup is cut nicely by the vinegary Louisiana-style hot sauce sitting on every Formica table. The menu also includes fried chicken livers, fluffy biscuits and onion-enhanced stewed collard greens. We tend to steer clear of the gravy, which can turn to paste as it cools on the plate. For dessert, a slice of sweet potato pie is a must. Plenty of celebrities have wandered into this branch over the years, and President Obama dropped by the outpost on Pico Boulevard. Also located at 830 N. Lake Ave., Pasadena, 626-791-4890; 5006 W. Pico Blvd., Los Angeles, 323-934-4405; and 730 E. Broadway, Long Beach, 562-437-8355.
---
Takeout & Delivery Restaurants in LA

Many dine-in establishments in Los Angeles Area are temporarily closed, but we've rounded up restaurants that are still offering takeout and delivery.


---
---