Local, organic ingredients are thoughtfully rendered into creative breakfast, brunch and lunch dishes.

Openings:
Breakfast & Lunch Mon.-Fri., Brunch Sat.-Sun.
Features
Parking lot
Dress code: Casual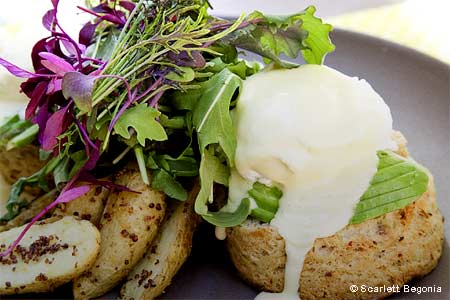 Scarlett Begonia Restaurant Review:

Most everything at Scarlett Begonia is thoughtfully executed. Local, organic ingredients are creatively rendered into breakfast, brunch and lunch dishes. A weekly shifting menu may offer a vegetable sandwich with fried eggplant and roasted red pepper, goat cheese, watercress and a balsamic onion jam. The house burger (grass-fed beef, of course) is served on a potato wheat bun made fresh onsite. A brunch tasting menu may showcase local white sea bass in a kiwi-laced ceviche with cotija cheese and crunchy pepitas, or feature a unique take on tortilla soup combining purple cornmeal, a fried egg, queso fresco and spiced shrimp. The same creative, thoughtful approach is applied to cocktails as well --- think small-batch, artisan spirits; a Bloody Mary made with fresh squeezed Tutti Frutti Farms heirloom tomato juice and organic vodka. Spotty service, however, remains the eatery's Achilles' heel.
---