Yuzu Sushi & Robata Grill
1751 W. Chicago Ave.
Send to Phone
West Town restaurant keeps the house packed for sushi and robata.
---
---
Open

Lunch & Dinner daily

Features
* Click here for rating key
---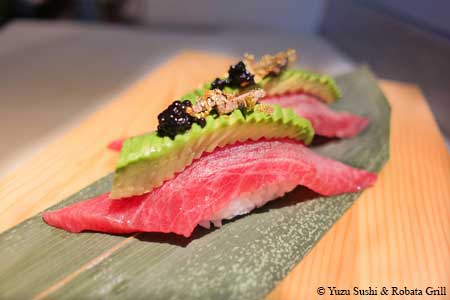 ---

Operations may be disrupted due to COVID-19. Be sure to contact the restaurant to find out its current status and offerings.


---


Yuzu Sushi & Robata Grill Restaurant Review
:
About the restaurant & décor: It could be a Monday night, and still, this joint is packed. For a neighborhood spot, Yuzu Sushi & Robata Grill doesn't suffer from weekday or weeknight doldrums. Tables are tightly spaced together, adding to the boisterous atmosphere of the single storefront dining room. Diners at the high-top tables sit across from the sushi chefs, but a partition separates them.

Likes: Service is on point, and sushi is anything but ordinary.
Dislikes: Same-day reservations can be difficult, so plan ahead.

Food & Drinks: Owner and chef Yut Vong infuses artistry into every dish. Catch diners photographing their rolls, and no wonder: with colorful flourishes (such as the Chicago flag sauce next to the "Chicago Spring," a tempura shrimp roll), these creations make for social media fodder. Even the so-called "Ordinary Rolls" take on cheeky names; "Sorry I Am Drunk" blends unagi, cooked shrimp, spicy mayo, red and black tobiko and chili and lime juice. The "Dragon Ball" roll tastes as good as it looks (again, with a dragon design crafted on the wood platter) thanks to shrimp tempura, spicy mayo, cucumber, unagi, avocado and soy sauce. Save room for robata. The sampler is a good bet with chicken satay, beef short ribs and pork shoulder. Take advantage of the BYOB with $5 corkage fee for wine, or choose from the small wine, beer or saké list.
---
---
---