Best Wines $10 & Under
Photo © L'Alsace
$10 Wines You'll Love
A delicious wine doesn't have to break the bank. There are enjoyable wines to be found at every budget. In fact, inexpensive wines are sometimes the most approachable. True, they may not be the sort of wines to toast your anniversary or serve at an important business dinner. But there are interesting wines from reliable producers perfect for casual weeknight dinners, an impromptu brunch with friends or a fun backyard party.
GAYOT's list of the Best Wines $10 & Under features varietals from around the world that help make the goal of enjoying an interesting bottle of wine an attainable one.
> Find more ideas for celebrating with GAYOT's Mother's Day Guide.
1. Jaume Serra Cristalino Brut

Type: SPARKLING
Origin: Alt Penedés, Spain
Price: $9

This is a sparkling wine that could easily sell for twice the price. It's a crisp, refreshing Cava with fresh baked bread and green apple aromas.
A good choice for brunch, it glides across the tongue with notes of crisp apple and lemon juice with a simple, clean finish.
> For more information, visit the García Carrión official website.
2. Château Ste. Michelle Riesling
Type: RIESLING
Origin: Columbia Valley, Washington
Price: $8

This Washington Riesling is made in an off-dry style, but it offers tinges of sweetness, not syrupy flavors. In fact, it's surprisingly well-balanced for the price with lime tartness and ripe peach and pear fruit.
The fresh fruit flavors linger on the tongue for a lasting impression.
> For more information, visit the Chateau Ste. Michelle official website
3. Alamos Malbec
Type: MALBEC
Origin: Mendoza, Argentina
Price: $9

This is without question the best red wine in this price range we've tried in a long time. It's a fairly simple wine with very direct flavors of red plum and blackberry. But it is elegant and smooth with good acidity and great tannins.
This would be a welcome wine at any dinner table.
> For more information, visit the Alamos Wines official website.
4. Mirassou Sauvignon Blanc

Type: SAUVIGNON BLANC
Origin: California
Price: $9

Mirassou is a winery known for producing well-priced wines and with this Sauvignon Blanc, they don't disappoint. The wine offers an enticing perfume of honeysuckle and guava.
It's extremely bright, lively and fresh on the tongue with flavors of honeydew and pink grapefruit with a refreshing bite of lime juice on the finish.
> For more information, visit the Mirassou Winery official website.
5. Mouton Cadet Blanc

Type: WHITE BLEND
Origin: Bordeaux, France
Price: $10

For a wine that typically retails between $8 and $10, this is a reliable French white blend. It's made from a blend of Sauvignon Blanc, Semillon and just a touch of Muscadelle.
It's a fragrant wine, with citrus and floral notes. Its juicy flavors include grapefruit and white peach.
> For more information, visit the Mouton Cadet official website.
6. Jacob's Creek Two Lands Pinot Grigio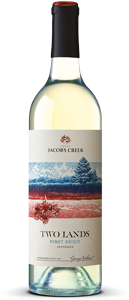 Type: PINOT GRIGIO
Origin: Barossa Valley, Australia
Price: $10

The color of this Pinot Grigio is particularly striking — it pours a gold hue tinged with salmon pink.
Asian pear dominates on the aroma and flavor, with background notes of quince, red delicious apple and bright, fresh lemon on the finish.
> For more information, visit the Jacob's Creek official website.
7. Maggio Old Vine Zinfandel
Type: ZINFANDEL
Origin: Lodi, California
Price: $10

To find an old vine Zinfandel for $10 is in itself remarkable, but to have one with this depth and balance of flavor is a true treat.
It's easy drinking with flavors of mixed berry jam with a compelling hint of smoke on the finish. This would be a good choice for your next barbecue.
> For more information, visit the Oak Ridge Winery official website.
8. Terrapura Carménère
Type: CARMÉNÈRE
Origin: Santiago, Chile
Price: $10

If you've never tried a wine made from the Carménère grape, this single-vineyard bottling will make a great introduction.
It's a masculine wine with woodsy aromas and flavors of cherry, orange oil and hints of red bell pepper.
> For more information, visit the Terrapura official website.
9. CK Mondavi Scarlet Five

Type: RED BLEND
Origin: Napa Valley, California
Price: $8

As the name implies, this red is a blend of the five Bordeaux varietals, Cabernet Sauvignon, Cabernet Franc, Petit Verdot, Merlot and Malbec.
Because it's a blend, it is more complex than many bargain wines with layers of black cherry, blackberry and plum with caramel on the finish.
> For more information, visit the CK Mondavi official website.
10. Ménage à Trois Midnight
Type: RED BLEND
Origin: St. Helena, California
Price: $10

With a sales pitch of, do you like to do it in the dark?, you know this is wine with a sultry profile.
A blend of Merlot, Cabernet Sauvignon, Petite Sirah and Petit Verdot, it's complex with musky and dark fruit aromas and black currant, blackberry and spice on the palate.
> For more information, visit the Ménage à Trois official website.