Open

Lunch & Dinner daily
Open late

Features
Valet parking & parking garage
Dress code: Casual
Reservations suggested
* Click here for rating key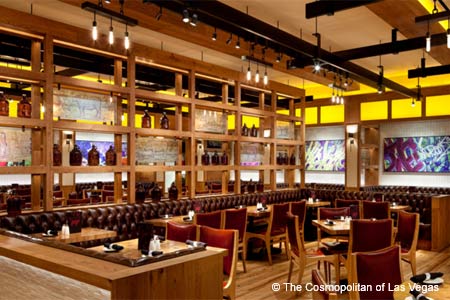 Holsteins Shakes and Buns Restaurant Review
: The name pays homage to the bovine species, and while gourmet burgers hold top billing, executive chef Anthony Meidenbauer made room on the menu for other dishes as well. A case in point is truffled lobster mac 'n' cheese and the Philly cheese steak egg rolls. Burgers include the best-selling Gold Standard, with dry-aged sirloin, smoked bacon and aged goat cheddar; the Big Fat Greek, spiced lamb with feta cream and tzatziki sauce; and The Rising Sun, Kobe-style beef with a teriyaki glaze and crispy yams. Non-meat eaters aren't left out, with options of seared salmon with pickled shallots, and a house-made vegan patty with cucumber, sprouts and avocado. Complementing the burgers is a lengthy list of craft beers, including local brews. There are also several varieties of shakes bolstered by spirits. Dessert options include the Udder Chaos Sundae, a conglomeration of vanilla ice cream, giant chocolate chip cookie, nitro meringue, chocolate and strawberry sauces and candy.
BE IN THE KNOW
New Restaurants in Las Vegas
Find all the Las Vegas restaurants that have opened recently with GAYOT's round-up.

See What's New in Las Vegas!
Discover the best female chefs, top pizzerias and stellar seafood restaurants with GAYOT's Top 10 lists of the best restaurants in America.