Best Chocolate Bars in the World
Chocolate Brands You Need to Try
A long, long time ago, the Aztecs used to sip something they called Xocolatl as a health tonic. This not-so-sweet beverage derived from cacao seeds (which they believed were a gift from the gods) paved the way for today's much sweeter version of chocolate. Fast-forward to the late 19th-century and Swiss chocolatiers developed the conching technique to produce the smooth feel of solid chocolate we now know and love.
GAYOT's list of the Best Chocolate Bars features a selection of Swiss, Belgian and French pioneers along with modern artisanal chocolatiers who are pushing the envelope with new flavors and ingredients that indeed taste like food of the gods.
> And lest you think chocolate is nothing more than a palate-pleasing indulgence, we have details on the numerous health benefits of eating this mood-enhancing sweet treat as well as its abilities as an aphrodisiac.
1. Cluizel Mokaya Dark Chocolate


Price: $25
In 1948, the late Michel Cluizel took over his family's pastry business in Normandy, France. Travelers still flock to learn the secrets of chocolate-making at his "Chocolatrium."
Cluizel operates a Chocolatrium in West Berlin, New Jersey. Visitors are walked through the chocolate creation process and history of the Cluizel brand. They are offered a sneak peek into the Cluizel workshop, then feast on fanciful bonbons like truffles, macarons and mini French pastries.
> Our pick: Mokaya 66 % Dark Chocolate
2. Zotter Chocolates
The flavors we taste-tested ranged from the creamy, caramel-filled Coffee Toffee to the earthy and bitter 100% cacao Peru bar (not for the faint of heart). In addition to creating their hand-scooped chocolates in-house, Zotter is an independent bean-to-bar producer that prides itself on using organic, fair-trade quality cocoa beans and runs the company entirely on eco-power.
> Our pick: Zotter 100% cacao Peru bar
Official website
3. Chuao Spicy Maya


Price: $21 (3 pack)
This chocolate from Venezuela will make you say "Chew … wow!"
Named after Venezuela's legendary cacao-producing region, Chuao Chocolatier specializes in "fusion chocolate." Founded in 2002 by Venezuelan master chocolatier and chef Michael Antonorsi, and his brother Richard, Chuao (pronounced chew-wow, as it turns out) aims to dazzle and delight taste buds by pairing ethically sourced chocolate with natural — and oftentimes surprising — ingredients such as chile peppers, popcorn, potato chips, bacon and honeycomb.
Along with the milk and dark bars, there are bonbons and truffles. For a real textural experience, try the vegan-friendly Ooh Ahh Almond bar. It blends dark chocolate and crunchy almonds that have been kettle-cooked in sea salt and sugar. Or heat things up with the Spicy Maya bar that fuses cayenne and pasilla chile with creamy dark chocolate.
> Our pick: Spicy Maya Bar
4. Valrhona Gran Couva


Price: $10
Valrhona, the Rolls Royce of chocolate, has been crafting couvertures (chocolates with high cocoa content) since 1922.
Hailing from France's Rhône Valley, Valrhona's wine country influence is unmistakable. The label on each Valrhona cru (single origin bar) bears the name of that bean's terroir. Valrhona also suggests wine pairings designed to bring out the "notes" in each chocolate's complex flavor profile. From chocolate pearls to tasting squares, the brand's nec-plus-ultra chocolate bar selection is available at specialty grocery stores.
> Our pick: Gran Couva Single Origin Bar
5. Dandelion Chocolate Madagascar Dark
Price: $8.50

After Silicon Valley whiz kids Todd Masonis and Cameron Ring sold their software company for a reported $170 million, they decided their next business would be artisanal chocolate.

Lifelong enthusiasts, they grew cacao plants in their apartments and made small batches in their Palo Alto garage. After two years of taste tests, they took their handmade dark chocolate public, opening Dandelion Chocolate in 2012. Located in San Francisco's eclectic Mission district, their factory turns out single-origin 70 percent cacao bars. Their releases, which change frequently with the season, source cacao from places as far-flung as Venezuela, Madagascar, and Papua New Guinea.

Dandelion Chocolate bars contain only two ingredients: cocoa beans and cane sugar. For the dark variety-favoring purist, their unadulterated bars are a direct reflection of the quality and unique characteristics of the bean. Constantly on the hunt for the best cacao crop, Masonis and Ring work directly with farmers from around the globe. Dandelion Chocolate also gets top points for presentation. Luxuriously wrapped in gold foil and handmade paper, each of their bars is signed by the chocolatier and printed with its unique origin story.

> Our pick: Ambanja, Madagascar – 70 % bar

6. Bovetti Crystallised Rose Petals
Price: $7
When looking for top-quality chocolate from Africa, this is it.
Chocolate with coriander and fennel? It all started in 1994 when Italian chocolatier Valter Bovetti established a factory in Aubazine, France. There he debuted his trademark chocolate candies shaped as nails and tools. In 2006, Bovetti and five fellow chocolate-makers visited Sao Tome, an African island in the Gulf of Guinea off the coast of Gabon. The island was called the "chocolate island," which inspired them to found a fair trade association named Roca Cacao. The organization bought harvesting equipment for twelve plantations and ensured a living wage for their 120 employees. Beans from the site of the first cacao plantation in Africa, go into Bovetti's high-quality Single Origin bars.
The company crafts an impressive collection of more than 150 different kinds of chocolate bars, boasting ingredients like ginger and lavender petal, or for the truly adventurous, dried tomato and chili.
> Our pick: Crystallised Rose Petals Dark Chocolate Bar
7. Amedei Porcelana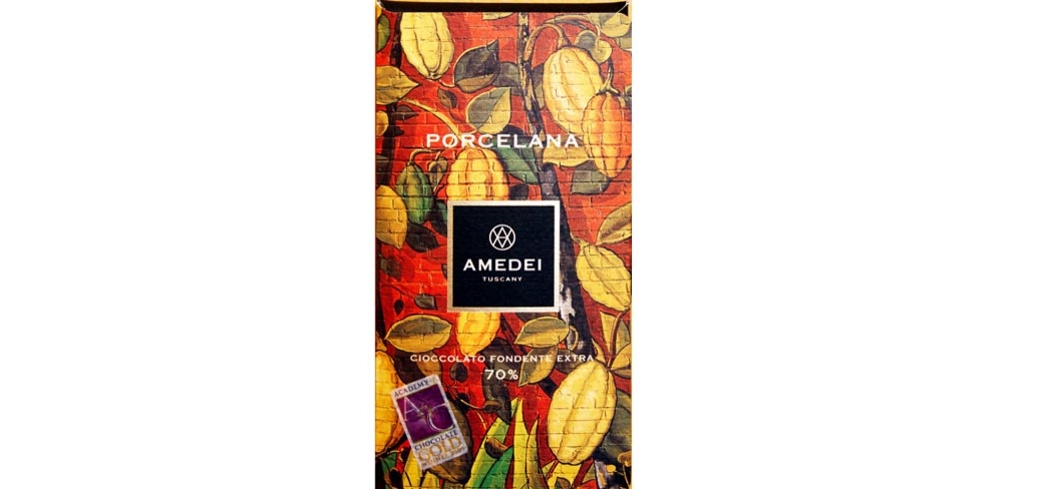 Price: $21
This Venezuelan-sourced Porcelana bar weighs in at more than $180 per pound.
Cecilia Tessieri — one of the world's few female chocolatiers — makes some of the most expensive chocolate in the world. Since opening its doors in 1990, the Tuscany-based brand Amedei has contributed to a $27,000 cupcake in Dubai and a $1,000 sundae at New York's Serendipity. We like the limited-edition Porcelana bar, which you can get for around $20.
> Our pick: Porcelana Chocolate Bar
8. Wild Ophelia Peanut Butter & Banana

A pioneer in experimental chocolate who trained at Le Cordon Bleu in Paris, chocolatier Katrina Markoff cemented her culinary wunderkind status when she launched her Vosges Haut-Chocolat line.
When we heard she was debuting Wild Ophelia, an American-inspired "sister" line to Vosges, we were excited to try it for ourselves. Intended as an "American road trip through chocolate," Wild Ophelia aims to connect the American farmers' movement with chocolate. The 41 percent cacao milk chocolate bars feature all-natural ingredients such as New Mexican pecans, California almonds and Michigan cherries sourced directly from small farms across the USA. Markoff first gained fame with offbeat creations like the Mo's Bacon Bar, so it's no surprise that Wild Ophelia features unexpected flavors such as BBQ Potato Chips, Beef Jerky and Peanut Butter & Banana.
> Our pick: Peanut Butter & Banana
9. Alcove Velvet Milk
Price: $5.95
Alcove Red Velvet Milk Chocolate takes the essence of red velvet cake and infuses it into a chocolate bar.
This chocolate bar from the popular cafe in Los Feliz, CA, is smooth and has just the right amount of tang. The milk chocolate melts in your mouth and offers a nice surprise with little bits of cream cheese inside. Rich flavors of warm, freshly baked cake are undeniable in the bar. They flavors create a chocolate that is sweet without being saccharine. The Alcove Red Velvet Milk Chocolate, made with 64 percent cacao, is blended with spices and other natural ingredients. The milk chocolate gives the bar a creamy, velvety texture heightened by the taste of cheesecake frosting and chocolate cake. Alcove uses no preservatives or additives and is certified kosher. Other winning flavors include Fleur de Sel, Mimosa, Chipotle Chili, Black Forest and more.
> Our pick: Alcove Red Velvet Milk Chocolate
Official website
10. Leonidas Dark 70% Cocoa


Price: $33 for 6
This line of chocolates began with an international love affair.
After debuting his winning pralines at the World Fair in Brussels in 1910, Greek-Cypriot confectioner, Leonidas Kestekides, fell in love with a local Belgian girl. He then opened a tea room in Ghent and after his pralines again won gold at the Ghent World Fair in 1913, Leonidas began expanding his operations. He opened tea houses in Brussels and Blankenberge. His nephew, Basilio, pioneered the storefront "guillotine window." Today, Leonidas sells chocolates worldwide. But, the prolific brand's humble beginnings are never too far away. "Democracy in chocolate," their motto, means that the good stuff isn't only reserved for the rich. Purists will appreciate his Leonidas Dark 70% Cocoa bar.
> Our pick: Leonidas Dark 70% Cocoa