Whisky Fudge Recipe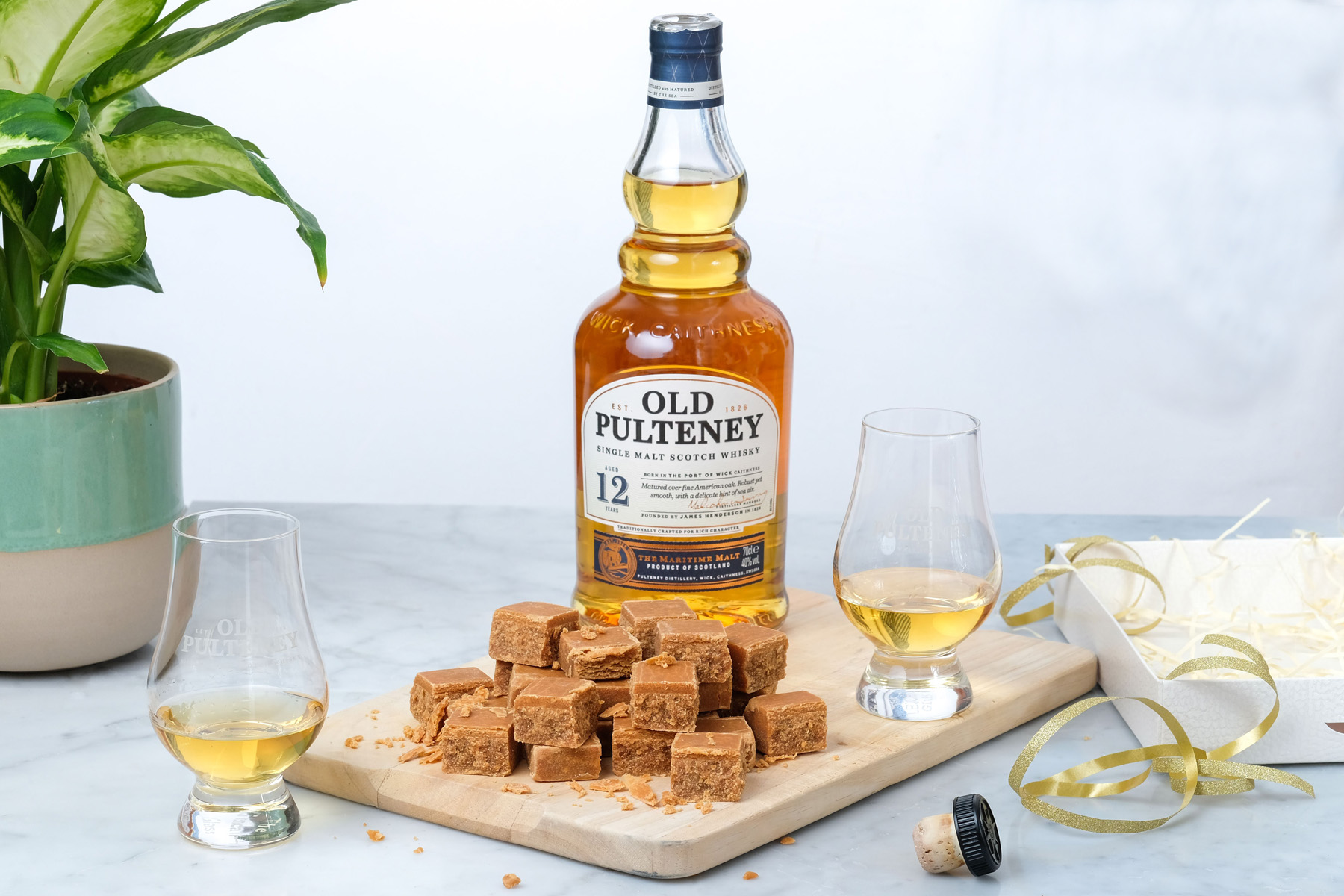 How to prepare Whisky Fudge
Scottish distillery Old Pulteney likes to go beyond. It has created, in partnership with Scottish chef CJ Jackson, this fudge recipe inspired by CJ's late mother. The sweet notes of honey and cream from Old Pulteney make a perfect addition to this decadent recipe

Old Pulteney Single Malt Scotch Whisky is aged in American oak ex-bourbon and Spanish oak ex-sherry casks. Its unpeated malt is sourced from a selection of the UK's foremost suppliers. The distillery first opened its doors in 1826. Nearly two centuries later, the tradition has been kept and the process is still the same.

Because the distillery is located on the most northerly shores of Scotland, where the North Sea meets the Caithness coast, Old Pulteney Single Malt Scotch Whisky likes to call itself "The Maritime Malt."

INGREDIENTS:
– 1 ½ cups + 2 tbsp (300 g) granulated sugar
– 7 ¾ tbsp (110 g) unsalted butter
– 1 ¼ cups (300 ml) double cream
– 1 tbsp (15 g) liquid glucose
– 5 ¾ tsp (15 g) icing sugar, sifted
– 2 tbsp Old Pulteney Single Malt Scotch Whisky

METHOD:
• Dissolve the sugar, butter, cream and liquid glucose together in a large saucepan, stir frequently to prevent catching.
• Bring to the boil, do not stir, and simmer until the syrup reaches 475°F – to 'soft ball stage.' You can test this by dropping some of the syrup into cold water – if it forms a soft ball, it's the perfect temperature.
• Remove from the heat and allow the syrup to cool to 419°F.
• Move the mixture into the bowl of a fixed head beater and whisk on slow speed for 1 minute, increasing the speed as you go.
• Beat vigorously for five minutes, or until the mixture can just hold its shape.
• Add the icing sugar, then Old Pulteney Single Malt Scotch Whisky, and continue to stir at low speed for another 30 seconds.
• Turn into a tin and allow to cool for a couple of hours or until firm enough to cut into squares.

> For more information, visit Old Pulteney official website.