Spanish & Latin American Culinary Terms
Don't know your bacalao from your besugo? Have no fear. Whether you're dining at a top-rated restaurant or a small café in San Sebastian, our guide to Spanish food terms will arm you with the necessary culinary lingo to negotiate any menu.
Note: Because there are so many regional dialects in Spain and Latin America, the term for one food product might easily have four or five variations.

> Check out GAYOT's:
– Best Mexican Restaurants
– and How To Make The Perfect Margarita.

A
Aceite: oil
Ajo: garlic
Al ajillo: with olive oil and garlic
A la marinera: fish or seafood cooked with garlic, onions and white wine
All-i-oli: aïoli; garlicky mayonnaise
Almendras: almonds
Almejas: clams
Anchoas: anchovies
Arroz: rice
Asado: roast
Atœnor bonito: tuna
B
Bacalao: dried, salted codfish
Besugo: sea bream
Boquerones: marinated anchovies
Bullabesa: Catalàn fish stew similar to bouillabaisse
Burrito: soft, wheat-flour tortilla rolled and stuffed with various meats, refried beans, cheese and vegetables
C
Calamares: squid
Caldo: broth
Callos: tripe
Camarones: shrimp
Carne: meat
Cerveza: beer
Ceviche: raw fish marinated in citrus juice
Chalupa: a small, thick corn tortilla folded into a boat shape, fried and filled with a mixture of shredded meat, cheese and/or vegetables
Chilaquiles: flat tortilla layered with beans, meat, cheese and tomato sauce
Chile relleno: large, mild chili pepper, stuffed with cheese and fried in an egg batter
Chorizo: spicy pork sausage flavored with garlic and spices
Cigallas: crayfish or langoustines
Conejo: rabbit
Cordero: lamb
Crema catalana: custard with burnt sugar on top like a crème brûlée, but less creamy than the French dish
E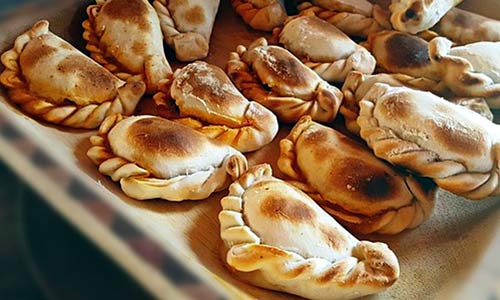 Empanada: pie or tart filled variously with meat, seafood or vegetables
Empanadita: a small empanada
Enchilada: a tortilla, fried and stuffed variously with meat, cheese and/or chilies
Entremeses: appetizers
Escalivada or Escalibada: chargrilled or roasted peppers, onions, eggplant or other Mediterranean vegetables
F
Flan: a baked custard with a caramel coating (also crema caramela)
Frito (frita): fried
Guacamole Recipe – Watch the video
G
Gambas: shrimp
Garbanzos: chickpeas
Gazpacho: Andalusian; a cold soup of fresh tomatoes, peppers, onions, cucumbers, olive oil, vinegar and garlic (also celery, breadcrumbs)
Guacamole: an avocado dip or filling, with mashed tomatoes, onions, chilies and citrus juice
H
Habas: broad beans
Higado: liver
Huachinango: red snapper
Huevos: eggs
Huevos rancheros: tortillas topped with eggs and a hot, spicy salsa
Huevos revueltos: scrambled eggs
J
Jalapeño: very common hot chili pepper, medium size
Jamón: ham
Jamón Ibérico: delicacy from the native Iberian breed of pig
Jamón Serrano: dry-cured ham, like Parma ham
L
Lenguado: sole
Licuado: fruit milkshake
Lima: lime
Limón: lemon
Linguiça: garlicky pork sausage
M
Mantequilla: butter
Mariscos: shellfish
Masa: cornmeal dough; essential for making tortillas
Menudo: a stew featuring tripe
Mole: sauce; most often a thick, dark sauce made with mild chilies and chocolate
Morcilla: black blood sausage
N
Nachos: a snack dish of tortilla chips topped with melted cheese and chilies
Nopales: leaves of the prickly pear cactus; simmered and used in various dishes
P
Paella: a dish of saffron-flavored rice studded with meat (chicken, ham, sausages, pork), shellfish and vegetables
Papas: potatoes (also, patatas)
Papas fritas: literally 'fried potatoes'; french fries
Parrillada: grilled
Pechuga de pollo: chicken breast
Pescado: fish
Pez espada: swordfish
Pimiento: red chili-pepper; can be sweet or hot
Plátano: plantain; a starchy, mild-tasting variety of banana popular in Latin America; usually cooked and served as a side dish
Pollo: chicken
Poblano: large, mild, dark green chili pepper; used for chili rellenos
Puerco: pig
Pulpo: octopus
Q
Quesadilla: a soft, folded tortilla filled with cheese (and/or other savory stuffings) and toasted or fried
Queso: cheese
R
Rape: monkfish
Riñónes: kidneys
S
Salchicha: sausage
Salsa: sauce; also, an uncooked condiment of fresh tomatoes, onions and chilies
Salsa borracha: 'drunken sauce;' salsa made with tequila
Sangría: Spanish drink made with red wine, soda water, chopped fresh fruits and sugar, often with a touch of brandy; served on ice
Setas: wild mushrooms
Seviche: raw fish marinated in citrus juice (also, cebiche)
Sopa: soup
Sope: a small cornmeal bun cooked and filled with savory stuffing
T
Taco: a folded, warmed or fried tortilla filled with ground beef (or other meats or fish), refried beans, shredded lettuce, tomatoes, onion, cheese and salsa
Tamale: corn dough made with lard, filled with a savory stuffing, wrapped up in a piece of corn husk, and steamed
Tapas: appetizers, Spanish in origin; usually enjoyed with an apéritif such as dry sherry
Tortilla: a flat, unleavened, crêpelike bread made with cornmeal flour (masa) or wheat flour
Tostada: a fried tortilla topped with a saladlike mix of ground beef or chicken, beans, lettuce, tomato and guacamole
Z
Zorza: pork marinated in wine and herbs