Alexander's Steakhouse
19379 Stevens Creek Blvd. (Finch Ave.)
Send to Phone
Upscale, Asian-inspired steakhouse with an exceptional selection of beef.
---
---
Open

Lunch Tues.-Sat., Dinner nightly

Features
Valet parking & parking lot
Dress code: Casual
Reservations suggested
* Click here for rating key
---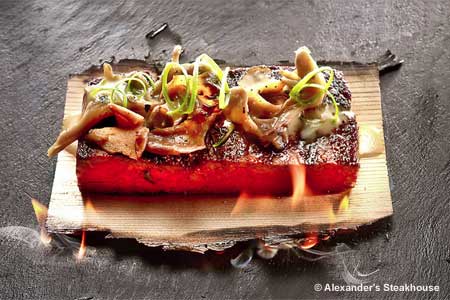 ---

Operations may be disrupted due to COVID-19. Be sure to contact the restaurant to find out its current status and offerings.


---


Alexander's Steakhouse Restaurant Review
: Alexander's Steakhouse's Silicon Valley location has an ambience that is more high-end hotel restaurant than classic steakhouse. The selection of steaks may be the best in the Bay, and likely in California, with multiple prefectures of true Japanese Wagyu to choose from as well as dry-aged Prime beef and U.S. and Australian Wagyu. An eight-course omakase presents a menu laced with seasonal specialties and plenty of Asian and seafood-inspired dishes. Food is plated delicately and artistically. The wine list is substantial and varied in both by-the-bottle and by-the-glass selections. Some older Bordeaux even represent relative bargains compared to recent releases. Desserts are small portioned, with a preference for intense taste over steakhouse sizing, and every meal ends with one of 12 flavors of house-made cotton candy. Additional locations in San Francisco and Pasadena.
---
TRENDING ON GAYOT.com

> SEAFOOD & WINES: The 13 Best Wines for Pairing with Seafood in 2022. See the list.

> WINE & SEAFOOD: What are the best wines to pair with seafood? See GAYOT's Guide.

> MEZCAL: 4 Great Craft Cocktail to make at home. Get the recipes.
---
GAYOT's Wine & Spirits Editor presents the
Wine of the Week, featuring tasting notes as well as history on the vineyards and winemaker.

The view is not the only reason to dine at Calabra in Santa Monica, CA.
Read the review and see photos
.