Blue Bayou
1313 S. Harbor Blvd. (New Orleans Square)
Send to Phone
714-781-3463
| Make Restaurant Reservations
| Menu
This Disneyland restaurant serves up Southern-inspired dishes inside the Pirates of the Caribbean ride.
Open

Lunch & Dinner daily

Features
Dress code: Casual
Reservations suggested
* Click here for rating key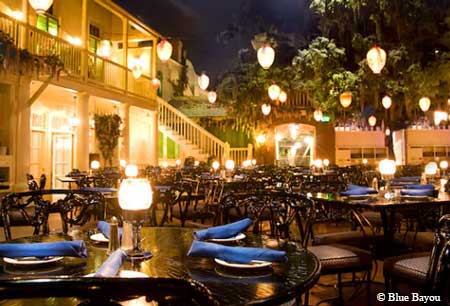 Blue Bayou Restaurant Review
: Yes, that's the Blue Bayou restaurant you spy from your plastic boat while floating around Disneyland's Pirates of the Caribbean attraction. Once inside the restaurant, you are transported to a cool summer night in New Orleans complete with a riverside location, passing boats, wrought iron, marble tabletops and fancy lights that look like fire flies dancing in the dark. Chef Moises Carranza cooks up Southern-inspired dishes for lunch and dinner. At lunch, we suggest the Monte Cristo sandwich with its turkey, ham and Swiss cheese and battered bread grilled to a golden brown. Dinner features entrées such as roasted chicken maison, bone-in rib-eye with smoked Gouda macaroni and cheese, and pan-seared salmon with white cheddar mashed potatoes. For kids (ages 3-9), the menu is quite grown-up (chef's beef specialty, chicken breast, pan-seared fish), and the somewhat healthy dishes will fill them up. Opt for the French vanilla crème brûlée with ripe berries and whipped cream for dessert. Wine lovers note: Blue Bayou does not serve alcohol.