Chef Helene An likes the word "balance" to describe her accomplishments. This is exactly what has been done with the reincarnation of Crustacean: beautiful décor, beautiful food.

Openings:
Lunch Tues.-Fri., Dinner Tues.-Sun., Brunch Sat.-Sun.
Features
Valet parking
Dress code: Dressy
Reservations suggested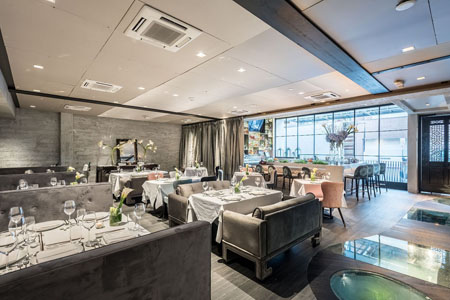 Crustacean Restaurant Review:

About the restaurant: The An family's love affair with America started in 1971 when they fled Saigon. San Francisco was first with their restaurant Thanh Long and then Crustacean in 1991. Thanks to the talent of much regretted grandma Diana, success was immediate, and also most important, continuous. Behind the stoves was and still is her daughter Helene. Later the family packed their bags, moved south and in 1997 opened Crustacean in the most famous zip code on the planet. Another success. But the Ans, Helene and her daughters involved in the business, have understood that even if patrons flock to the restaurant, you have to evolve. After an eight-month closing in 2018, and ten million dollars (yes, ten), there is a new Crustacean on the block. Under the ideas and supervision of daughter Elizabeth and Jh2 Architects, the layout and the design are so different that there is no way you can retrace your steps from incarnation number one. Even the entrance has been moved to the corner street on Bedford. But be reassured the kois are still swimming in the stream under your feet. The décor, mainly in white and light grey tones, has everything to please the luxurious both feminine and masculine clientele: elegant, sexy yet classy. Every detail is tasteful, as is the overall feeling.

Likes: the entire experience. Don't rush your dinner, take the time to enjoy.
Dislikes: none.

About the food: Remember that chef Helene started the modern Vietnamese cuisine movement back in the 70s. So, of course, in 2018, she has moved the boundaries on the menu here. Start with the "crab cake" where the crab meat is actually fresh heart of palm --- don't forget to admire the plate on which the dish is served. Continue with the Vietnamese beef roll. The tuna cigars where smoke is involved is a must-have, as well as the Himalayan salt block steak or the Vietnamese caramel whitefish. Other culinary treasures are the classics from the Secret Kitchen ™. The dishes are prepared in a separate kitchen accessed only by the family or longtime chefs, that includes chef Tony Nguyen who is running the kitchen, who have proved their loyalty with a decade or more of service. From there, the An's Famous Garlic Noodles ™ are obligatory. And we feel the same about the An's Famous Garlic Roasted Crab ™. Finish with the pineapple financier or Chef Helene's Classic Banana à la Mode.

About the drinks: So much effort went into the cocktail program that we recommend you indulge in some (or many) of them, as the wine list is short with no surprises.
---