Modern Peruvian cuisine and sweeping Bay views.

Openings:
Lunch & Dinner daily
Features
Dress code: Casual dressy
Reservations suggested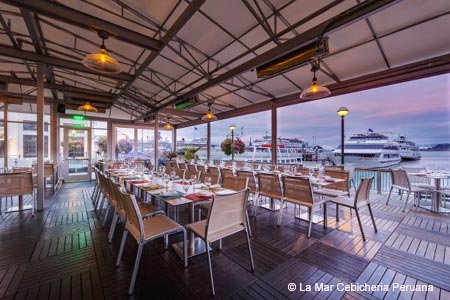 La Mar Cocina Peruana Restaurant Review:

Celeb chef Gastón Acurio picked an apt location for his first stateside eatery: smack-dab on the waterfront. A loungy bar, heated dockside patio (which seats 130 after an extensive expansion) and lofty dining room with floor-to-ceiling windows, tall potted plants and turquoise décor create a comfortable, modern indoor-outdoor feel. The vivid peppers that are Peruvian staples --- red rocoto, yellow aji amarillo, orange aji panca --- inform dishes that are as sculpturally striking as they are seductively piquant. Classics from chef de cuisine Victoriano Lopez include causas (whipped-potato pedestals), empanadas (Peru's answer to the knish) and anticuchos (grilled skewered meat and seafood). House-specialty cebiches include cebiche clásico, tender chunks of halibut transformed by tangy lime-based "leche de tigre." We particularly like the bandeja de cebicheria, an assortment of ceviches and fish, and la gran bandeja criolla, an equally expansive array of cooked meats. Whole fish varies by the catch and is an impressive presentation. Rich, fruity desserts and complicated pisco cocktails introduce yet more memorable, if initially unfamiliar, flavors.
---