Read the full review and see a photo gallery of the expansive rooftop lounge at The Godfrey Hotel Hollywood.


---
---
Open

I|O Outdoor: Open daily 11 a.m.-midnight, I|O Indoor: Open Mon.-Wed. 4 p.m.-midnight, Thurs.-Sun. 11 a.m.-midnight
Open late nightly

Features
Valet parking
Dress code: Casual dressy
Reservations suggested
* Click here for rating key
---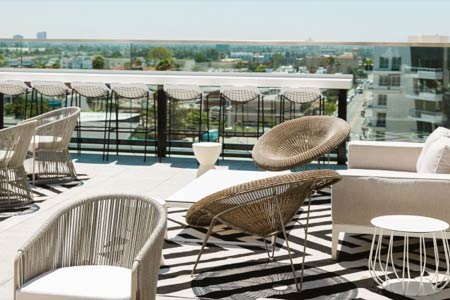 ---

Operations may be disrupted due to COVID-19. Be sure to contact the restaurant to find out its current status and offerings.


---


I|O Rooftop Restaurant Review
:
> Read the full review of I|O Rooftop and see a photo gallery. Click here.

I|O Rooftop is perched on the seventh floor of The Godfrey Hotel Hollywood and boasts more than 12,000 square feet. There are both indoor and outdoor spaces, including two bars, swimming pool and fire pits. Patrons can enjoy cocktails and food.
---
TRENDING ON GAYOT.com

> SEAFOOD & WINES: The 13 Best Wines for Pairing with Seafood in 2022. See the list.

> WINE & SEAFOOD: What are the best wines to pair with seafood? See GAYOT's Guide.

> MEZCAL: 4 Great Craft Cocktail to make at home. Get the recipes.
---
GAYOT's Wine & Spirits Editor presents the
Wine of the Week, featuring tasting notes as well as history on the vineyards and winemaker.

The view is not the only reason to dine at Calabra in Santa Monica, CA.
Read the review and see photos
.