---
---
Open

Lunch Mon.-Fri., Dinner nightly

Features
Valet parking & parking lot
Dress code: Casual dressy
Reservations suggested
* Click here for rating key
---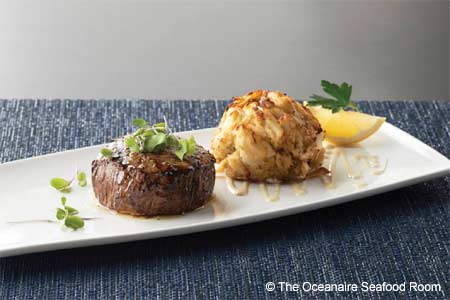 ---

Operations may be disrupted due to COVID-19. Be sure to contact the restaurant to find out its current status and offerings.


---


The Oceanaire Seafood Room Restaurant Review
: From 10-ounce filets of fish, two-pound lobsters and a side of hash browns that covers an entire plate to slices of cake that must weigh a pound --- everything on the menu is well beyond super-size, which, food-wise, rarely yields a positive result. But at Oceanaire, the food is surprisingly good. Fish is never more than 24-hours old, sauces are correct and service is friendly. The Simply Grilled or Broiled portion of the menu is almost infallible, servers ask how you want your fish cooked, and if it isn't right, they will happily replace it. An item hard to pass up is the Maine diver sea scallops with spinach, drunken cranberries, almonds and chèvre. The Kona kampachi sashimi with citrus wedges, horseradish and sel gris also makes a splash. The best part is that the place looks like the dining room of a 1930s luxury liner; you can almost see yourself swirling around like Fred and Ginger, even dressed in khakis and a polo shirt.
---
TRENDING ON GAYOT.com

> SEAFOOD & WINES: The 13 Best Wines for Pairing with Seafood in 2022. See the list.

> WINE & SEAFOOD: What are the best wines to pair with seafood? See GAYOT's Guide.

> MEZCAL: 4 Great Craft Cocktail to make at home. Get the recipes.
---
GAYOT's Wine & Spirits Editor presents the
Wine of the Week, featuring tasting notes as well as history on the vineyards and winemaker.

The view is not the only reason to dine at Calabra in Santa Monica, CA.
Read the review and see photos
.