Rich Table
199 Gough St. (Oak St.)
Send to Phone
California-current cuisine from husband-and-wife, veteran chefs.
---
---
Open

Dinner nightly

Features
* Click here for rating key
---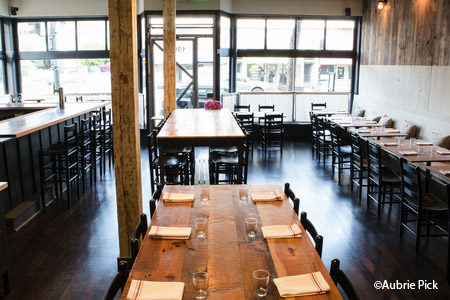 ---

Operations may be disrupted due to COVID-19. Be sure to contact the restaurant to find out its current status and offerings.


---


Rich Table Restaurant Review
: Husband-and-wife co-executive chefs Sarah and Evan Rich's ingredients are well sourced, but they don't footnote every menu item with a list of farms and purveyors. This laid back approach permeates the couple's quintessential, premium-casual neighborhood spot with room for 60, with rough-hewn, whitewashed walls and weathered beams, and staff in come-as-you-are jeans and flannel --- but where elegantly prepared seasonal food is delicately plated. Start with sardine chips, hand-cut crispy potato chips fastened with sardine-filet brooches, complemented with creamy horseradish sauce. Lamb tartare is mild and meaty with just a hint of game in the finish. Pork Bolognese sits salty and savory on house-made al dente pasta. Dishes often take small-degree shifts from the traditional --- roasted cauliflower with nutritional yeast creates the flavor of cheese sauce without the cheese. With all the enjoyable smaller plates one can double down and skip the entrées, but if you choose not to, try the red trout with Brussels sprouts --- edged with crispy, lightly salted skin, cooked optimally to mid-rare-plus, rich and buttery and reminiscent of fine salmon. Don't skip dessert: sweet cream panna cotta is light as buttermilk cream and topped with strawberry compote and a pleasant pile of streusel-like crumble. Mint chocolate cream is a grown-up Thin Mint cookie. Wine and pairings favor the innovative to almost-obscure --- let wine director Maz Naba inform and inspire.
---
---
---