Swan Oyster Depot
1517 Polk St. (California St.)
Send to Phone
415-673-1101
| Make Restaurant Reservations
|
Order Now!
Visit this San Francisco landmark for simple seafood done right.
Open

Open Mon.-Sat. 8 a.m.-5:30 p.m. with sit-down service from 10:30 a.m.-4:45 p.m.

Features
Dress code: Casual
No Credit Cards
* Click here for rating key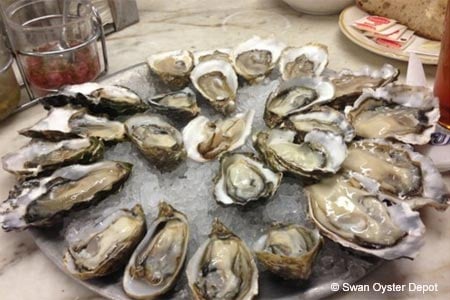 Swan Oyster Depot Restaurant Review
: The Swan Oyster Depot is a San Francisco landmark: the restaurant has been selling and serving fresh, frill-free seafood since 1912. Behind the marble counter, convivial employees shuck impeccably fresh oysters. Steamed crab, shrimp and lobster are also offered, but don't expect any fancy preparations. A couple of draft beers, including San Francisco's own Anchor Steam, complete the dining experience. You may have to wait for one of the few wooden stools, and note that closing time is 5 p.m., but there is take-out and delivery to the surrounding neighborhoods.