THIS RESTAURANT IS CLOSED Applewood Inn Restaurant
13555 Hwy. 116 (River Rd.)
Send to Phone
707-869-9093
| Make Restaurant Reservations
An elegant, creative culinary adventure in a romantic Russian River destination.
Open

Dinner Wed.-Sun.

Features
Parking lot
Dress code: Casual
Reservations suggested
* Click here for rating key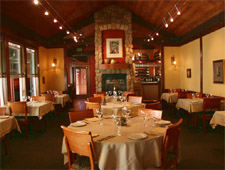 THIS RESTAURANT IS CLOSED Applewood Inn Restaurant Restaurant Review
: APPLEWOOD INN RESTAURANT IS NOW PINOLI CUCINA RUSTICA. Just over the river from the town of Guerneville, tucked into the secluded Applewood Inn, is its rustic-yet-elegant upstairs restaurant, with cozy rock fireplaces and cheerful solarium overlooking a fountain and courtyard. Chef Jamil Peden (Madrona Manor, Scopa, Woodfour) lets the resident garden's bounty and other local offerings dictate his artful, ingredient-driven menus; the chef's tasting menu paired with wines is a great way to sample his craft. White corn soup highlights freshly harvested corn against cream, garnished with a dollop of local goat cheese and thinly sliced radish. Green zebra tomatoes with compressed watermelon on a bed of horseradish crème fraîche with puffed wild rice kernels is as delightful to the taste as it is to the eye. Tenderly grilled rib-eye is augmented by the colors and flavors of broccoli purée, black garlic soubise and pea shoots. Finish with delicate panna cotta infused with vanilla hints, on Asian pear purée and wild fennel. The wine program skews Russian River-centric.