NEW
Beelman's Pub
600 S. Spring St. (Sixth St.)
Send to Phone
213-622-1022
| Make Restaurant Reservations
High-end, European-inspired cocktails and elevated pub fare in downtown L.A.
Open

Open nightly

Features
* Click here for rating key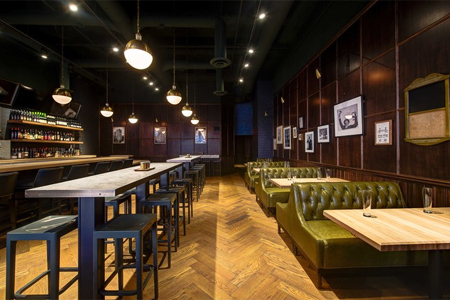 Beelman's Pub Restaurant Review
: The Acme Hospitality Group (Library Bar, Laurel Tavern) has unveiled Beelman's Pub in the Historic Core at 6th and Spring Streets in downtown L.A. A dramatic garden sports ivy, moss, brick walls and cobblestone patio steps lit by European wall sconces and candlelight. Inside, there are large communal tables, classic leather Pullman booths and walls of dark wood veneer. Expect a high-end, European-inspired cocktail list featuring Spanish sherry, Italian bitters and French bubbles, and a food menu with elevated pub fare and charcuterie.
BE IN THE KNOW
New Restaurants in Los Angeles
Find all the Los Angeles restaurants that have opened recently with GAYOT's round-up.

See What's New in LA!
Sign up for the 2015 edition of GAYOT's Annual Restaurant Issue, which will feature the Top 40 Restaurants in the U.S. and more.