Hole in the Wall Burger Joint
2200 Colorado Ave., Ste. C (Cloverfield Blvd.)
Send to Phone
310-449-0147
| Make Restaurant Reservations
| Menu
A gourmet burger joint with a no-frills attitude.
Open

Lunch & Dinner Mon.-Sat.

Features
* Click here for rating key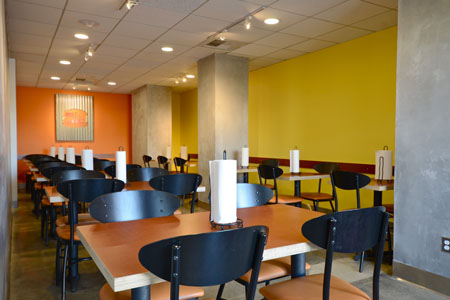 Hole in the Wall Burger Joint Restaurant Review
: This unassuming eatery delivers a self-proclaimed "working man's" gourmet burger with topnotch ingredients, prepared by a former fine dining chef. A 20-year veteran of the restaurant industry, chef and owner Bill Dertouzos offers up his take on the burger by using artisan buns, locally grown produce and making the spreads, condiments, pickles and fries all from scratch. Diners can customize their meal by choosing from beef, turkey or veggie burgers, three different buns, including a pretzel bun, three choices of mayonnaise, three cheeses and four toppings. You can also pre-order by phone or website.
BE IN THE KNOW
New Restaurants in Los Angeles
Find all the Los Angeles restaurants that have opened recently with GAYOT's round-up.

See What's New in LA!
Sign up for the 2015 edition of GAYOT's Annual Restaurant Issue, which will feature the Top 40 Restaurants in the U.S. and more.