Little Star Pizza
400 Valencia St. (15th St.)
Send to Phone
415-551-7827
| Make Restaurant Reservations
|
Order Now!
| Menu
The Mission crowd frequents this gourmet pizza joint, beloved for its deep dish and thin crust pies.

Open

Lunch & Dinner daily

Features
* Click here for rating key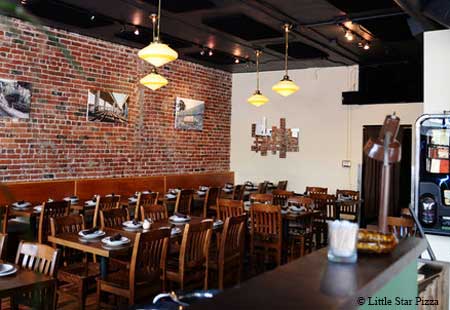 Little Star Pizza Restaurant Review
: Mission District hipsters rejoice that they need not travel north of the Panhandle for their gourmet pizza fix. Instead they wait patiently (no reservations accepted) at the local classic's second joint on Valencia. This darker, more streamlined version of Little Star Divisadero has banquette booths, mid-century modern light fixtures and a decidedly more mature vibe. The second-best jukebox in the city (the first is at Little Star north) glows on the wall next to a small bar. Deep dish specialties tower more like cakes than pies---for under $20, a small size can certainly feed more than two---and come heavy with fresh, layered ingredients over the simple tomato and basil sauce and cornmeal crust for which the place is famous. Thin-crust lovers are equally satisfied with a long list of gourmet toppings, including a white pie loaded with garlic. And speaking of deep dish: try the cheesecake.