Michael Mina
252 California St. (Battery St.)
Send to Phone
Michael Mina offers his modern American cuisine in the Financial District.

Chef Michael Mina was GAYOT's 2011 Best Restaurateur in the US
Open

Lunch Mon.-Fri., Dinner nightly

Features
Dress code: Business casual
Reservations suggested
* Click here for rating key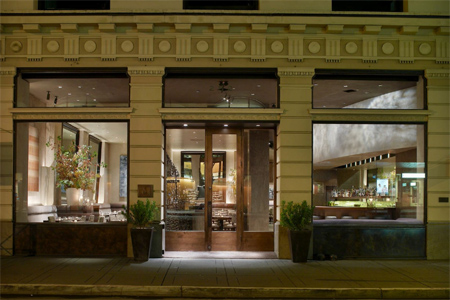 Michael Mina Restaurant Review
: Michael Mina's eponymous restaurant relocated to the former Aqua space in 2010 and brought with it a decidedly fresher and hipper vibe. The cool, sleek dining room touts a minimalist design, majestic bar and high ceilings. The crowd is a convivial mix of young downtowners and older patrons, setting a tone of vivacity mingled with established old guard. And while the Mina signature favorite of tuna tartare is alive and well, much has changed. In addition to Mina, the managing chef and owner, Ron Siegel, the longtime former toque of The Dining Room at The Ritz-Carlton, San Francisco, is in the kitchen, too, with executive chef duties. The restaurant offers a mainly prix-fixe menu format: four courses (with amuses and other additions) for $95 per person, with vegetarian options available. Siegel's nine-course "Ketto" tasting menu is $165 and requires whole table participation. A short à la carte menu is available at the bar for dinner and during lunch. Dishes one might encounter include Morro Bay abalone with sushi rice and hibiscus-scented dashi broth; sea scallop with cilantro salsa verde and lime-coconut gel; or a Prime Black Angus rib-eye paired with artichoke, asparagus and baby carrot. At meal's end, the "Dessert Service" runs the gamut with six items, which may include dark chocolate with frozen grapefruit meringue, nougat glacé with earl grey tea streusel, or order a sweet à la carte. Sommelier Evan Hufford pulls together a formidable wine list.
BE IN THE KNOW
New Restaurants in San Francisco
Find all the San Francisco/Bay Area restaurants that have opened recently with GAYOT's round-up.

See What's New in San Francisco!
Check out the 2015 edition of GAYOT's Annual Restaurant Issue, which features the Top 40 Restaurants in the US and more.