Michael Mina
252 California St. (Battery St.)
Send to Phone
Michael Mina offers his modern American cuisine in the Financial District.

Chef Michael Mina was GAYOT's 2011 Best Restaurateur in the US
Open

Lunch Mon.-Fri. 11:30 a.m.-2 p.m., Dinner Mon.-Thurs. 6 p.m.-9 p.m., Fri.-Sun. 5:30 p.m.-10 p.m.

Features
Dress code: Business casual
Reservations suggested
* Click here for rating key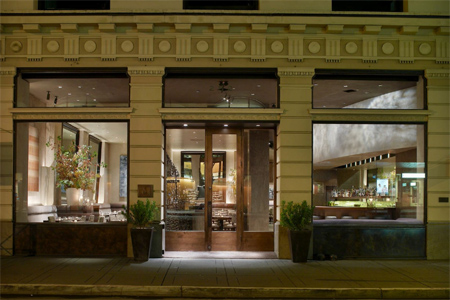 Michael Mina Restaurant Review
:
About the restaurant and décor: Michael Mina's flagship restaurant in San Francisco's Financial District presents a cool, sleek dining room touting a minimalist design, majestic bar and high ceilings. The crowd is a convivial mix of young downtowners and older patrons, setting a tone of vivacity mingled with established old guard.

About the food: At dinner, Mina's five-course, prix-fixe menu ($145, plus optional wine pairings) of modern American cuisine includes the chef's signature "trios" --- the preparation of one ingredient or dish three ways. You might encounter côte de bœuf complemented by Nantes carrot, persimmon and shimeji; shallot aigre-doux, rapini and sesame; and polenta, porcini and onion soubise. For a supplement, add on signature dishes like caviar parfait with smoked salmon and crème fraîche or the Maine lobster pot pie with Cognac cream. For dessert, dark chocolate and pairs with coffee, hazelnut and persimmon. Executive chef Raj Dixit is at the helm in the kitchen, and a chef's tasting menu ($195, plus optional wine pairings) is also offered.

About the drinks: The well-curated wine list is one of the best in the city. Meanwhile, the bar program includes flights of Scotch, bourbon and amaro, plus cocktails that incorporate interesting ingredients like strawberry and habanero.