Michael Mina
252 California St. (Battery St.)
Send to Phone
Michael Mina offers his modern American cuisine in the Financial District.

Chef Michael Mina was GAYOT's 2011 Best Restaurateur in the US
Open

Lunch Mon.-Fri., Dinner nightly

Features
Dress code: Business casual
Reservations suggested
* Click here for rating key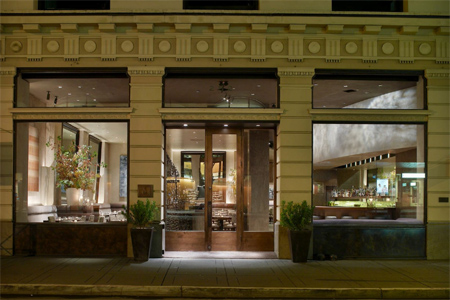 Michael Mina Restaurant Review
: Michael Mina's signature "trios" --- the preparation of one ingredient or dish three ways, met with acclaim in his early years --- has returned to the chef's flagship restaurant. In Mina's three-course, prix-fixe menu of options, course one might feature the classic tuna tartare, or a trio of sashimi. Course two could be the herb-roasted lamb chop, or the trio of Liberty Farms duck and foie gras three ways, with cuts from throughout the bird. Course three is a trio, either of desserts or cheeses. The salted chocolate Macallan 18 caramel sauce with the beignets epitomizes the Mina approach: beautiful presentation, a combination of distinct flavor profiles into a holistic one and exceptional attention to detail. The well-curated wine list is one of the best in the city. The cool, sleek dining room touts a minimalist design, majestic bar and high ceilings. The crowd is a convivial mix of young downtowners and older patrons, setting a tone of vivacity mingled with established old guard. Additional prix-fixe menus are offered. Chef Raj Dixit took the helm from Ron Siegel in spring 2016.

Sign up to receive the 2016 edition of GAYOT's Annual Restaurant Issue, which will feature the Top 40 Restaurants in the U.S. and more.