Village Seafood Buffet
3700 W. Flamingo Rd. (Valley View Blvd.)
Send to Phone
702-252-7777
| Make Restaurant Reservations
| Menu
When the mood for seafood strikes us so far from the sea, we enjoy going moderately crazy in this bustling seaport ambience.
Open

Dinner Thurs.-Mon.

Features
"Valet parking, parking garage & parking lot"
Dress code: Casual
* Click here for rating key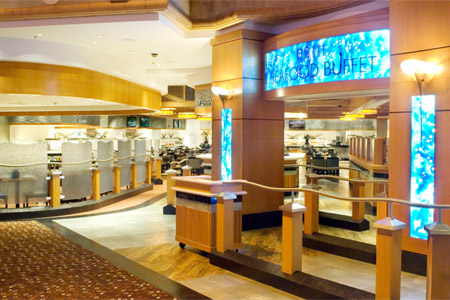 Village Seafood Buffet Restaurant Review
: This is the Rio's "other" buffet, devoted entirely to seafood. The dining area features 13,000 square feet of bold colors and design, emphasizing the cool hues of the ocean's blues and ice-frosted whites, in addition to leather chairs and high-back banquettes in various shades of metals, blues and purples. Food stations are set up to mirror that of a seafood market. We like the swordfish enchiladas, freshwater prawns from Indonesia, Alaskan king crab, Canadian snow crab, Thai barbecue prawns and the sushi. The gelateria (dessert station) features a custom-made silver rotating gelato display with ten flavors and a flambé station, as well as an array of classics including cheesecakes, chocolate éclairs and beignets. Wines and specialty cocktails nicely complement the cuisine. $44.99 (children 4-8 $25).
Las Vegas Top 10 Restaurant Lists