Top Sipping Beers
Full-Bodied Beers to Pair With Meals
Fine beer is enjoying a renaissance worldwide, from international classics to American micro-brews, and demand for truly great beer is on the rise. The icons of style hail from great European brewing traditions, like those of Belgium and Germany.
Up-and-coming brewers in the "New World" are pushing the envelope too, dreaming up new categories and making world-class beers in their own right.
The finest brews range widely in color from straw gold to chocolate brown, but share tremendous flavor impact and a lingering, food-friendly finish. Most are strong ales that deliver heaping helpings of malty goodness and snappy hop bitterness. All are full-bodied sipping beers that invite good company and contemplation. For best results, serve in a snifter, goblet or stemmed wine glass at no colder than 50º F.
Be sure you also check out this Complete Guide to Beer for even more delicious brews.
> The selections are presented in alphabetical order.
1. Abtsolution Dark Belgian Ale
Origin: Lochristi-Hijfte, Belgium
Beer type: Belgian Strong Dark Ale
Price: $17.50 for 750 ml.
ABV: 9%
Brewed by: De Proefbrouwerij
The name is a play on the word absolution, a word meaning the formal forgiveness of sins; the extra letter "t" is for the Abt abbreviation for Belgian quadruple dark ale, a style known for its deep fruity notes.
Although it's brewed and bottled at De Proefbrouwerij in Belgium, this collaboration between Belgian brewer Dirk Naudts of De Proefbrouwerij and Daniel Carey of the Wisconsin-based New Glarus Brewing uses American ingredients: Santiam and Chinook hops, which add pine and spice notes, and lactose derived from local Wisconsin cows to impart extra mouthfeel and sweetness. The beer is aged in both French and American oak, which lends a complexity and velvety smooth palate. This ale can be enjoyed now, but if you have the patience to wait, it will evolve beautifully over the next one to two years.
2. Alesmith Speedway Stout

Origin: San Diego, CA, USA
Beer type: American Double, Stout
Price: $12 for 750 ml.
ABV: 12%
Brewed by: Alesmith Brewing Company
This modern classic has been produced by the San Diego-based AleSmith Brewing Company since 2002.
Made year round, this 12% ABV behemoth pours a deep black with a tan head and an aroma of bitter coffee and roasted nuts. This beer offers the best of two tasting experiences. When sipped cold, fresh out of the fridge, a malty sweetness with toffee and caramel notes dominates. As it warms, the flavor transforms into a richness of bitter dark chocolate and roasted malt with a generous dose of locally-roasted coffee from Ryan Brothers Coffee. This beer's robust mouthfeel and enduring bitter chocolate aftertaste make it quite food friendly, or a wonderful dessert to sip after a meal.
3. Bourbon Street Old Fashioned Pale Ale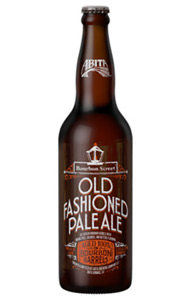 Origin: Covington, LA, USA
Beer type: American Pale Ale
Price: $11 for 22 oz.
ABV: 9.25%
Brewed by: Abita Brewing Company
Is it a cocktail as a beer? Or beer as a cocktail? Either way, this Louisiana-made brew is made for sipping.
Inspired by the classic Old Fashioned cocktail, this unique creation from Abita Brewing Company is brewed with malted barley and rye, then aged four months in bourbon barrels that have previously aged small-batch whiskey. After aging, the same ingredients you would find in the cocktail are added to the mix — fresh orange peel, maraschino cherries and aromatic bitters. Just as you would sip a cocktail to appreciate its savory notes, this brew at 9.25% ABV is definitely one to enjoy slowly.
4. Deschutes Pinot Suave
Origin: Bend, OR, USA
Beer type: Belgian Strong Dark Ale
Price: $17 for 22 oz.
ABV: 11.2%
Brewed by: Deschutes Brewery
Part of the Bend, Oregon-based Deschutes Brewery's Reserve Series, this unique Belgian-style ale is a prime example of melding beer and wine.
Its 11.2% ABV is in the average range of a wine's alcohol content and it's aged for 18 months in French oak Pinot Noir barrels that contain Pinot grape must (the freshly-pressed juice that includes the skins and seeds). Other ingredients include malted wheat, flaked oats, black barley and U.S. Tettnang and Crystal hops. The result is a slightly sour beer that brings complexity with notes of dried fruit, berries, tannins and acidity along with hints of tropical fruit and spice from the Belgian yeast. This brew will appeal to lovers of fermented grapes as well as those who prefer fermented barley. And like a fine wine, it can be enjoyed now or cellared to enjoy years later.
5. Dogfish Head Palo Santo Marron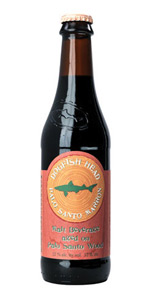 Origin: Milton, DE, USA
Beer type: Brown Ale
Price: $17 for four-pack 12 oz.
ABV: 12%
Brewed by: Dogfish Head
First crafted at Dogfish Head's Rehoboth Beach brewpub in 2006, Palo Santo Marron was such a big hit that it was bottled the next year.
This unfiltered ale spends three weeks in a stainless steel fermenter before being transferred to a massive 10,000-gallon tank handmade from Paraguayan Palo Santo wood. It's the largest brewing vessel built in America since pre-Prohibition days, and cost an estimated $140,000 to build. Although Palo Santo Marron is labeled a brown ale, it's almost black in appearance, and the tan head gives the impression of a stout. That is, until you take your first sip. Fermented with Sucanat, an all-natural whole-cane sugar sourced in Costa Rica, the beer boasts a bold, molasses-like sweetness with plenty of vanilla and caramel compliments of the exotic wood. Complex flavors of bitter dark chocolate also shine through, making this a sipper that satisfies both dark beer fans and those who like to drink their dessert.
6. Firestone Walker Stickee Monkee

Origin: Paso Robles, CA, USA
Beer type: Quadrupel
Price: $17 for 22 oz.
ABV: 11.6%
Brewed by: Firestone Walker Brewing Company
Since its inception in 1996, Firestone Walker has specialized in fermenting beer in oak barrels.
The brewery stays true to its roots with this version, aged for more than a year in Woodford Reserve, Elijah Craig and Four Roses bourbon casks. It calls this strong ale a "Central Coast quad" thanks to the California twist it undergoes before bottling. That is, the brewery blends Mexican turbinado brown sugar and Belgian candi sugar to contribute to the beer's caramelized character. The Stickee Monkee moniker is a nod to the Belgian monks who pioneered the Quadrupel style, as well as the Sticky Monkey flower that is native to California's Central Coast. There is also a sticky sweetness to the ale's taste, which is counterbalanced by the bourbon and oak astringency, along with hints of leather and rich cigar tobacco. This one-of-a-kind sipping beer will age well if you can resist the urge to pop the cap.
7. Goose Island Bourbon County Stout
Origin: Chicago, IL, USA
Beer type: American Double, Stout
Price: $20 for four-pack 12 oz.
ABV: 14.4%
Brewed by: Goose Island Beer Company
Originally released in 1992 to commemorate Goose Island's 1,000th batch of brew, this imperial stout is widely considered to be the first mass-marketed beer to be aged in bourbon barrels.
Over the years, Goose Island Bourbon County Stout has garnered a cult following — it's released annually on Black Friday when true aficionados skip the department store lines and instead head to their favorite craft beer store. Its opaque black appearance and thick foam head are joined with an intense aroma that is a mix of charred oak, chocolate, vanilla, caramel and smoke. At 14.4 percent ABV, it certainly qualifies as a sipping beer. The stout pours rich, thick and chewy, and must be savored slowly in order to appreciate its complex flavors of sweet chocolate, roasted malt, dark fruits and pronounced bourbon.
8. Great Lakes Eliot Ness Amber Lager
Origin: Cleveland, OH, USA
Beer type: American Amber Lager
Price: $9.99 for six-pack 12 oz
ABV: 6.1%
Brewed by: Great Lakes Brewing Co.
As the seasons change and a chill creeps into the air, we begin to crave the rich color and flavor of amber beers.
Inspired by the classic Vienna style of lager, Great Lakes incorporates both nutty Munich and sweet Caramel malts into this smooth brew that combines craft ale complexity with pilsner-like refreshment. Brassy in color, its honeyed multi-grain toast scent is lifted with a pinch of peppery Hallertau hops. Named for the 'noble do-gooder' who pursued Al Capone, Eliot Ness is a gem of a lager — a simple, honest beer of substance that sure gets the job done.
9. Gulden Draak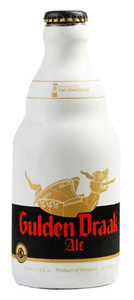 Origin: Evergem, Belgium
Beer type: Belgian Strong Dark Ale
Price: $5 for 11.2 oz.
ABV: 10.5%
Brewed by: Brouwerij Van Steenberge
Gulden Draak is Flemish for "golden dragon," and this dark tripel is named for the large golden statue that has stood atop the Ghent Belfry since 1382, just ten miles from the Brouwerij Van Steenberge brewery.
While most Belgian tripels are light in color, the Munich malt used in this ale results in a dark brown appearance. As the 10.5 percent ABV leads to a natural malt caramel and toffee-like sweetness, it's considered to go best with dessert, or as a standalone liquid sweet treat. The bottle's distinctive wide shape allows for natural refermentation to take place in the bottle, which also contributes to a creamy head. The centuries-old brewers' yeast adds a full body and complex aftertaste, leading to repeated satisfying sipping. Brouwerij Van Steenberge recommends replacing the whiskey in an Irish coffee with Gulden Draak to make a unique Belgian-style version.
10. Ommegang Gnomegang

Origin: Cooperstown, NY, USA
Beer type: Belgian Strong Golden Ale
Price: $17 for 750 ml.
ABV: 9.5%
Brewed by: Brewery Ommegang
This blonde ale is made in Cooperstown, New York, but it's inspired by the centuries-old brewing practices of Belgian Trappist monks.
Gnomegang incorporates the fruity, spicy yeast of the Belgian Brasserie d'Achouffe and is bottle conditioned with Ommegang yeast. The playful label depicts two chouffes (magical gnomes from Brasserie d'Achouffe) drinking a toast. Flavors of fruity esters, clove and spice from the Belgian yeast are balanced by hop bitterness and an effervescence that manages to hide the 9.5% ABV alcohol strength. After swallowing there's more enjoyment with a lingering dry, slightly sweet aftertaste.